The Benefits of Sustainable Coir Doormats
The benefits of coconut coir doormats
Coconut coir doormats set the scene for your home. Or your potting shed, or conservatory. They can also brighten up offices and workplaces. Trying to incorporate sustainability into your décor? Coconut coir is the perfect material for doormats as it's natural and organic and made using the by-products of the coconut industry. Coconut coir doormats are absorbent and durable too.
Coir: the organic choice
If you want to avoid using microfibres, nylon or polypropylene blends in your environment, a coir doormat is your best bet.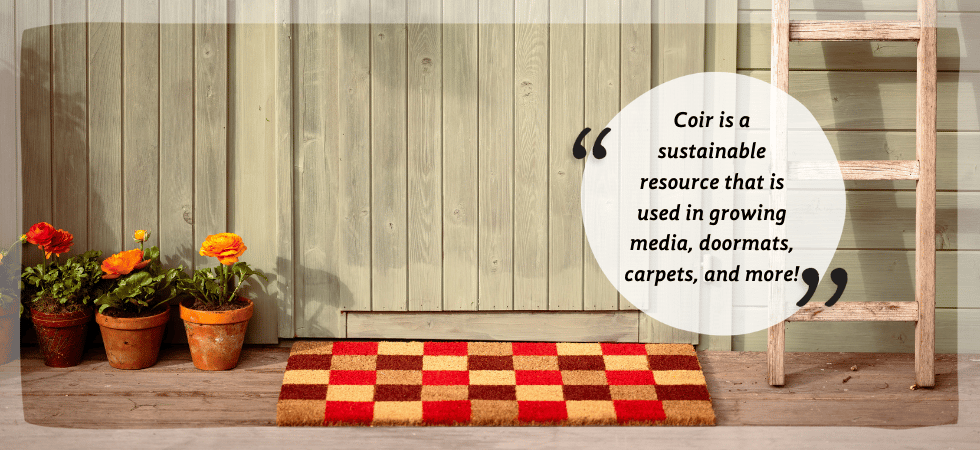 Lignin helps stiffen the fibres, the natural coconut oil coating helps absorb and hold onto dirt and natural rubber bases prevent mats from slipping. Coco coir is naturally sterile which helps protect it against mould, mildew and damp. Find out more in the best doormat for cleaning shoes.
Can you wash a coir doormat?
Yes, you can clean a coir doormat. Just don't chuck it in the washing machine!
The best way is to take it outside and give it a good shake to dislodge any debris. Dirt that's further in the bristles will need a bit more work. Fold the mat over a railing or washing line, grab a broom handle and then thwack the heck out of the doormat. (Technical term). It's an excellent way to vent any frustrations! Any fibres that fall out will just biodegrade.
To remove engrained stains or dirt, wet down a scrubbing brush and then work this into the bristles. The final stage is to pop your doormat back in position and give it a hoover.
For a more detailed step-by-step guide, take a look at our article on How to clean a coir doormat.
Can coir doormats go outside?
Yes. The bristles themselves are made from coconut fibres which are pretty sturdy given they have to survive tropical storms and hurricanes. So they can definitely cope with UK weather.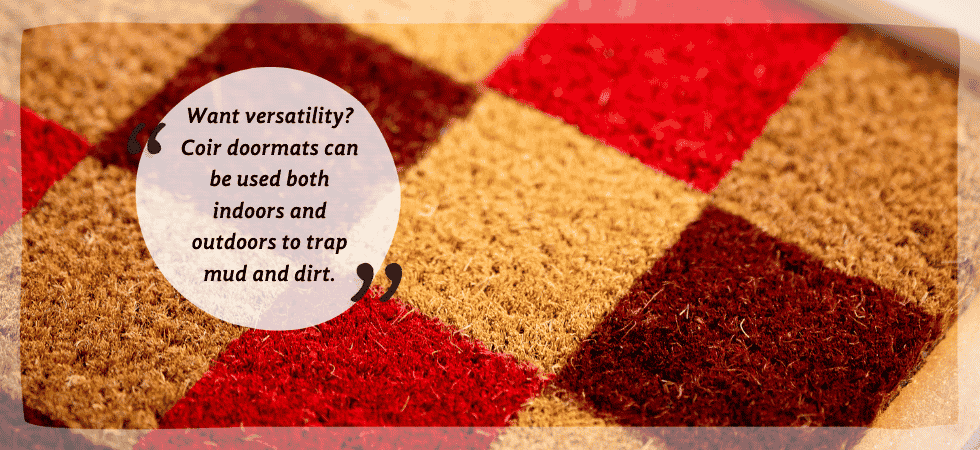 When coir is combined with rubber backing and ridges, it helps to trap mud and moisture. The rubber should have holes in it to allow water to drain through and prevent slipping. It also needs to be sturdy enough to stand up to people wiping their feet on it.
Here are our favourite outdoor mats from the Coco & Coir range:
Insert Mat – with autumn leaves
Tough Guy Coir Outdoor Doormat
Do coir doormats shed?
Coconut coir doormats are a natural material and so do shed, particularly in the first couple of weeks. However shedding reduces once any looser fibres work their way out. A quick hoover once a week should be enough to keep your doormat looking smart.
How to paint a coir doormat
Plain coir doormats which haven't been varnished or coated, so make the perfect canvas to get creative. You can use enamel spray paint for your coir doormat design or brush on acrylic / latex paint. Make sure you 'poke' the colour right down into the bristles!
If you don't have a steady hand, then a stencil is a good bet in getting a professional finish. You can make your own coir doormat stencil using baking paper. Low-budget and yet with a high-quality end product – you can't go wrong!
Bagging the best coconut coir doormat designs
If decorating your own doormat sounds like too much effort, we got you! Our range of coconut coir doormats includes everything from London buses to elephants, cats, dogs and even Christmas designs. Take a browse around our online store of coconut coir doormats.
The perfect house-warming gift?
You could say it with flowers, but a coconut coir doormat will make your loved one smile every time they see it! We offer free UK delivery on all orders… #JustSaying
Showcase your grand entrance
We love to see pictures of our doormats 'in the wild'. Please post a snapshot and tag @cocoandcoir on Instagram. We'll credit you for any images we use. You'll also be in with a chance to win some Coco & Coir goodies.