The Coco & Coir Range: Product Explainer Guide
We understand how easy it is to get "lost in the weeds" when it comes to compost.
At Coco & Coir, we specialise in a wide range of environmentally friendly and ethically sourced natural compost products that are not only 100% peat-free but are incredibly versatile. Made from coco coir (the natural by-product of coconut husks), our peat-free composts are completely sustainable and provide an excellent nutritional base for a plethora of plants, both indoors and outdoors. And what's more, they couldn't be easier to use! Just follow our simple step by step guide and you'll soon be on your way to a happier, healthier garden.
So whether you have an orchard or just an orchid, we have just what you need to not only help keep your garden green, but the planet too!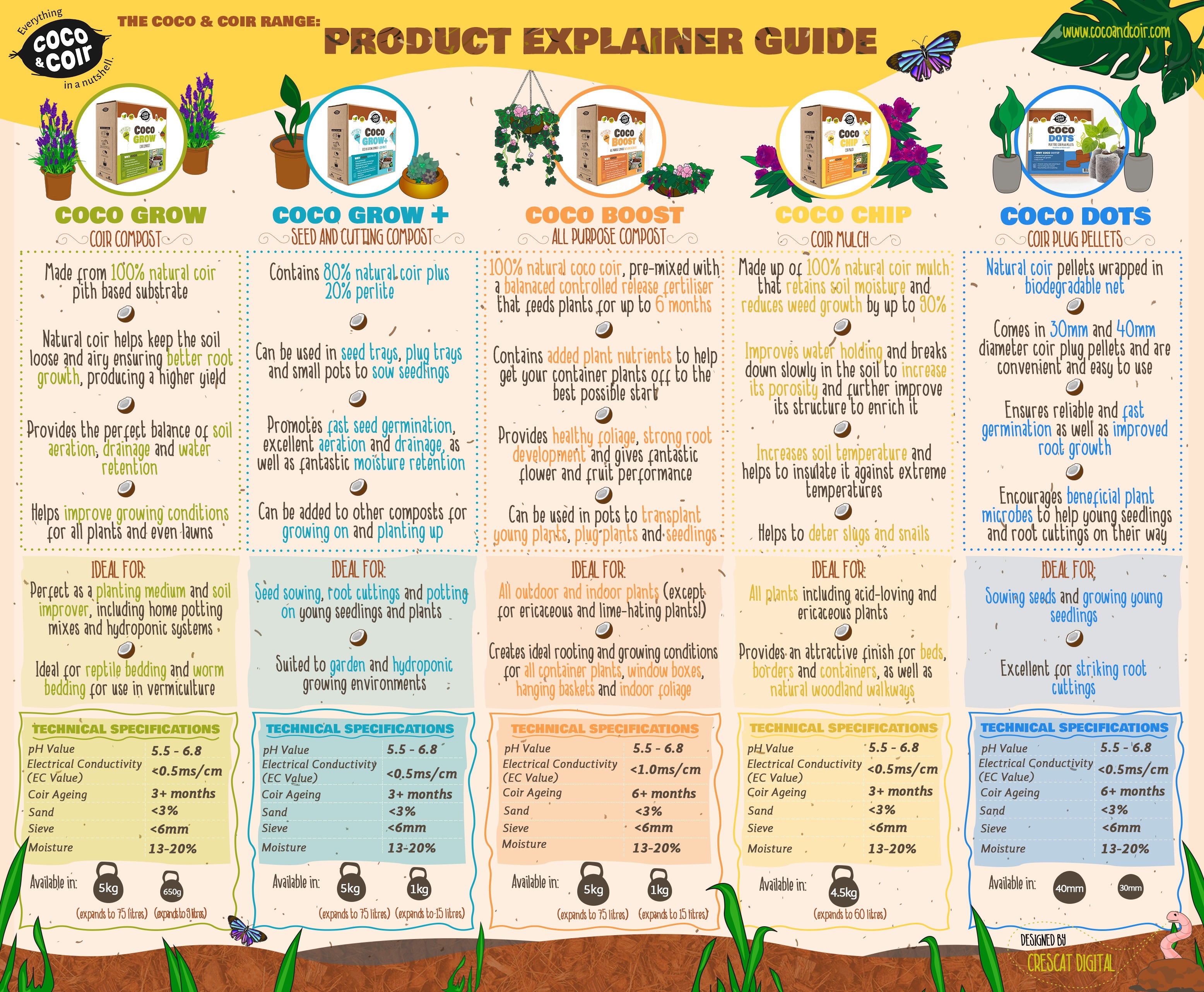 VIEW THIS INFOGRAPHIC IN HIGH RESOLUTION
Beds, Borders and Beyond – Coco Grow and Coco Grow Plus
Made from 100% natural coco coir pith-based substrate, Coco Grow is a popular choice for many gardeners for its broad range of uses. Most commonly, Coco Grow is best applied as a plant medium and soil improver, in particular enriching heavy clay and lighter sand-type soil. It works fantastically as a home potting mix, as well as in hydroponic systems, and is brilliant in beds and borders – all the while providing the perfect balance between soil aeration, drainage and water retention to ensure your plants are fully nurtured from the root. And it doesn't end there – it can even be used on lawns (including golf courses) as well as for reptile bedding and worm bedding for use in vermiculture.
Coco Grow Plus contains all the benefits of Coco Grow, but with 80% natural coir and 20% perlite – a substance primarily used to aerate composts to aid water drainage. It can be used in seed and plug trays, as well as small pots to sow seedlings. It also works well when combined with other composts, particularly when potting on young seedlings or plants to breathe a bit of extra vitality into them.
A Natural Boost – Coco Boost
Perfect for indoor and outdoor plants alike, Coco Boost is a 100% natural multi-purpose coco compost, pre-mixed with a balanced controlled release fertiliser that provides healthy foliage and strong root development by feeding plants for up to 6 months. It is ideal for containers such as pots, hanging baskets and window boxes, and with added nutrients of nitrogen, phosphorus and potassium, Coco Boost is essential for getting your plants off to the best possible start.
Mulch Better – Coco Chip
Comprised of 100% natural coir mulch, Coco Chip Mulch reduces weeds by up to 90% and helps to enrich the soil by improving water holding through breaking down slowly to increase its porosity. Not only does it provide an attractive finish for beds and borders, it works as an insulator to protect the soil from extreme temperatures, reduces water loss through evaporation and even acts as a slug and snail repellent! Perfect for creating natural woodland walkways, it is also ideal for re-potting orchids.
Small But Mighty – Coco Dots
Ideal for root cuttings and starting off young seedlings, Coco Dots seeding pellets are natural coir seeding pellets wrapped in a net that over time rots away so as to minimise root disturbance, while maintaining their structural integrity. Available in handy 30mm or 40mm discs, they can be used in seed trays and promote fast germination, whilst simultaneously encouraging beneficial plant microbes to ensure your plants are nutritionally supported from the beginning.
With our wide range of conveniently lightweight coir compost bricks and plug pellets, for all your eco-friendly growing solutions, we've got you covered – naturally!