The Guide To Vegan Compost
Tasty insights into vegan compost
When you're vegan, meals made from delicious fruit and veg makes all the difference. And what could be tastier than food you grow yourself? No dodgy additives, zero carbon miles (well, carbon meters at most!) and a rainbow of fruit and vegetable varieties you'll never see in a supermarket.
But to eat vegan, your food needs to be raised vegan. This includes what you grow it in. Read on for tips on what to look out for in vegan compost.
What is veganism?
Here's the Vegan Society's definition of veganism:
"A philosophy and way of living which seeks to exclude—as far as is possible and practicable—all forms of exploitation of, and cruelty to, animals for food, clothing or any other purpose. And by extension, promotes the development and use of animal-free alternatives for the benefit of animals, humans and the environment."
If you are vegan we understand you know this, but the nuances tend to be overlooked by non-vegans.
In dietary terms it denotes the practice of dispensing with all products derived wholly or partly from animals."
Is compost vegan?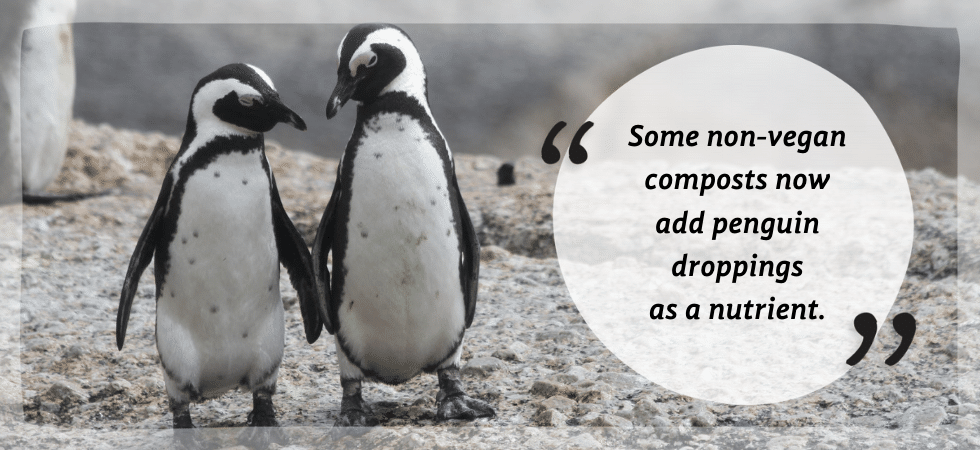 Compost is a super-hero level mix of different ingredients to help plants grow better. Some, like ours, are completely plant-based. Others contain animal products.
These can include:
• Chicken droppings – sometimes described as guano
• Chicken feather meal – also known as farine de plumes
• Cow horn or bovine keratin – used in biodynamic gardening, but vegan alternatives are available
• Eggshells
• Fish blood and bone meal
• Manure
• Shellfish
• Wool
So check out those ingredients carefully.
Pro Tip: There are now composts which have bat and penguin excretion being added as a new source of nutrients!
Does organic compost mean vegan compost?
Not necessarily. You can't get more organic than a steaming pile of horse manure. But that doesn't mean it's vegan! So channel your inner Sherlock, and make sure you read those labels. Unfortunately some labels really are not clear. The recent introduction of the "Responsible Sourcing Scheme", which we are a member of aims to make labeling clearer for this very reason.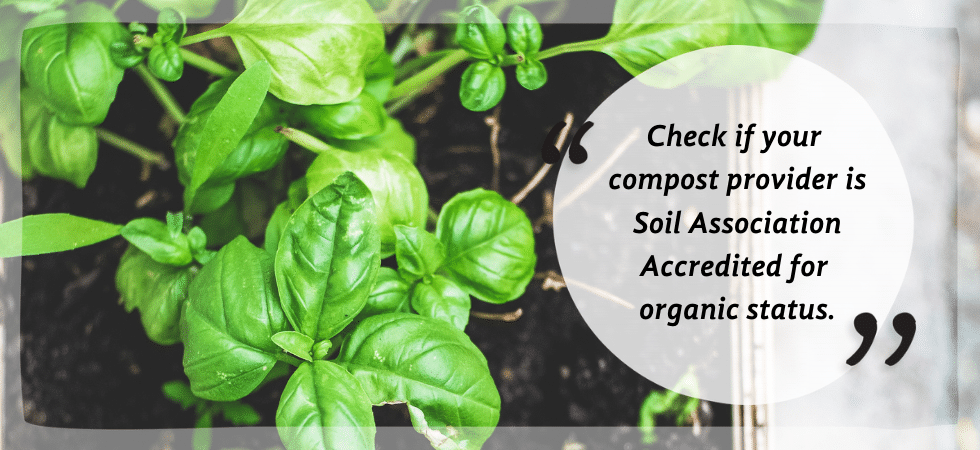 Is it really organic?
If a product has a Soil Association badge, then it's definitely organic. You can check if a business is certified with them, like we are, by using their Organic Certificate Checker.
Is peat-free compost the same as vegan compost?
Again, you need to read the label. Going peat-free is a great way to conserve wetlands that store carbon and provide irreplaceable habitats. But some peat-free compost blends include ingredients that have come from animals, such as wool to create a looser texture, which aid root development. Not helpful for the vegan grower, however.
Tick all the boxes with coir
Coir is made from coconut husks, and the coconut tree is a bit of an overachiever. On average, one tree produces a crop every 45 days.
Opt for coir-based peat-free composts, and you'll be using responsibly sourced coconut fibre from used coconuts. Being made from the humble coconut means you can be sure it is suitable for vegans.
Make your own vegan compost
Kitchen and garden waste can both be a great source of raw materials for compost. Check out these guides for inspiration:
• What can be recycled to make compost?
• How to compost in your own garden – The Greedy Vegan
• The Complete Vegan Compost – Instructables Living
• How to compost: The Bokashi System by Sustainably Vegan
Big up your veggies
For a bumper harvest, there are some great vegan vegetable fertilizers to buy or DIY:
• Alfalfa meal – particularly good for roses
• Comfrey feed – a favourite of gardening guru Monty Don, this is smelly but amazing! Check out this DIY comfrey feed recipe by Gardeners' World
• Nettle tea fertilizer – Moulton College has a fantastic nettle feed recipe
• Seaweed extract – although, check it hasn't been combined with fish products before use
Ready-made vegan multipurpose compost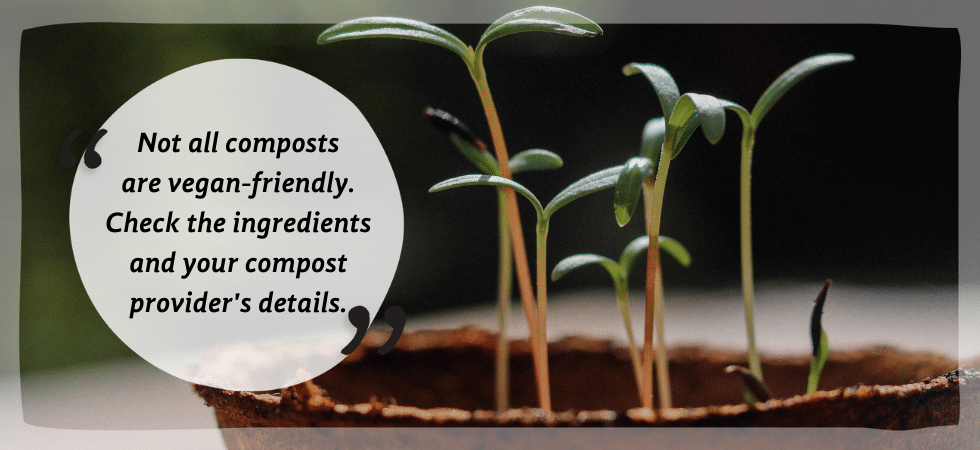 While you're waiting for your compost to mature, why not check out our vegan-friendly range of composts?
And if you need to buy-in produce before your harvest is ready, keep an eye out for the Biocyclic Vegan Standard. This means produce has come from plant-based organic farming. We think it's pretty fantastic!
Tips from the 'Green Gardeners Guild' online advice library
On the lookout for more tips and hints? Our blogs are packed with advice:
• How is coco compost made?
• How to grow vegetables in coco coir peat
• Compostable plant pots – let's go plastic free
Share your vegan compost harvest with the world
We'd love to see how you get on with our vegan-friendly compost.
Please post your pictures and tag @cocoandcoir on Instagram. We'll credit you for any images we use and you'll also be in with a chance to win some Coco & Coir goodies for your sustainable garden.