Using Coir For Greenhouse Plants
Reading Time:
4
minutes
Coir for greenhouse plants
Want to take your gardening up a notch? Then get a greenhouse. You can use them to protect tender plants over the winter, speed up seedling growth and enjoy exotic fruit and flowers. (Jealous much? Us? Never!)
As it's down to you to control a greenhouse's micro climate, you need to be ultra careful about what you bring through that door. Here are some tips on how to best use coir for greenhouse plants.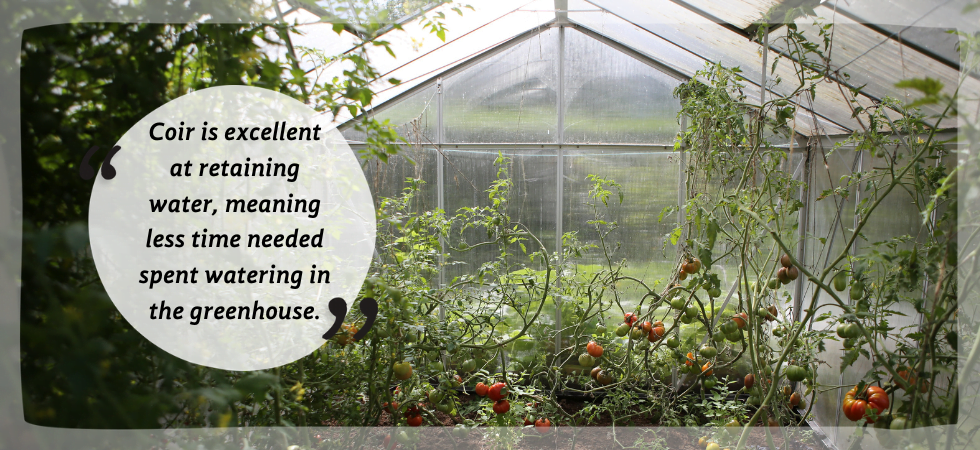 Benefits of going peat-free in the greenhouse
Haven't yet made the switch to peat-free compost? Kicking off your greenhouse growing cycle is the perfect time to do it. Why?
• Kinder to your muscles: coco coir compost weighs 4 times less than bagged compost.
• Kinder to the planet: our 100% coir compost is made from quickly-growing coconut tree fibre and waste fibre.
• Less plastic packaging to get rid of.
• Less water needed and less time watering.
• Lighter texture than other composts. This is particularly helpful for healthy root development.
• Anyone going peat-free with us gets 10% in loyalty points!
Can I use coir in my greenhouse
Absolutely! Greenhouses speed up growing but also other processes – both the good and bad. So coir is a better bet than home-made compost, as it's guaranteed to be bug, pest and disease-free.
Coir compost can also help you get your watering levels right. Greenhouses are more humid than the garden outside. Luckily coir drains well but still retains the water plants need. And if you use our Coco Boost blend it includes enough plant food for 6 months of growing.
Improving soil in greenhouse containers
Whether you have your greenhouse plants in pots or in tall raised beds, it's what you put in them that counts.
In the mix
Some gardeners prefer pure compost, others like to mix things up. If you love your garden soil and know it's pest-free, then try:
• 60% loam, as in your garden's topsoil or you can buy loam by the bag
• 40% compost which includes a soil conditioner for drainage such as perlite – like our Coco Grow+ blend
Or if your garden soil isn't that good, go 50/50 soil and compost.
Mulch for cover
Adding a top layer of mulch to containers can give your plants a boost. Just don't overwhelm small seedlings!
Get rid of unwanted visitors
If you've suffered a pest or disease infestation, you don't need to throw out your greenhouse soil. Put it into a black bin bag and leave in full sunlight for 14 days. The heat builds up and sterilizes the soil.
Top up their plate
Plants in containers can't draw up nutrients from the soil. And some can be extremely greedy – we're looking at you tomatoes! So think about adding fertilizers. You can DIY nettle tea fertilizer or comfrey feed.
Swap and swap again
It's best not to use the same container of greenhouse soil for the same plant year in, year out. Plant-specific bugs and diseases might have clung to the soil and give you a nasty surprise next season.
Coir for hydroponic plants
Hydroponic gardening is a soil-free planting system. Plants are fed with water which includes nutrients dissolved into it. It sounds pretty space age. But the Chinese have used a similar approach for centuries to grow rice.
If you rig up a hydroponic system in your greenhouse, you'll save 20% on space and be able to grow year round.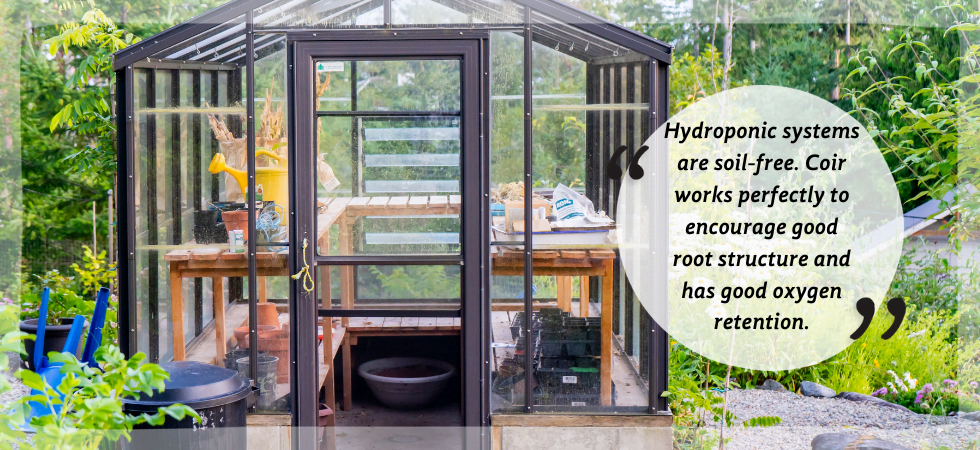 Absolute beginner?
Pure coco coir fibre is great growing medium to kick off your hydroponic journey. It's completely sterile and our bricks have already been triple washed to remove salts and other impurities.
With hydroponics, it's vital that roots can get access to oxygen. Coco fibres are fine enough to allow this. Plus still retain that vital water.
Tips from the 'Green Gardeners Guild' online advice library
On the lookout for more tips and hints? Our blogs are packed with advice:
• What should I grow in my greenhouse?
• What vegetables are best to plant in winter?
• How to keep plants warm in winter
Make us green with envy with your greenhouse pics!
Why not share your success stories of using coir for greenhouse plants? Please post your pictures and tag @cocoandcoir on Instagram. We'll credit you for any images we use and you'll also be in with a chance to win some Coco & Coir goodies.