Gardening: The Benefits to Your Health and Wellbeing
Reading Time:
3
minutes
At Coco & Coir, we truly believe that a healthy garden is a happy garden – and the same can be said about ourselves! In fact, what some people don't realise is that both a garden's health and our own go hand in hand.
Did you know that gardening is actually considered a form of exercise and that just one hour of light gardening is the equivalent of a moderately paced walk of the same amount of time? Not only that, but doing jobs in the garden burns calories – which is great news for those of us who aren't too keen on the gym!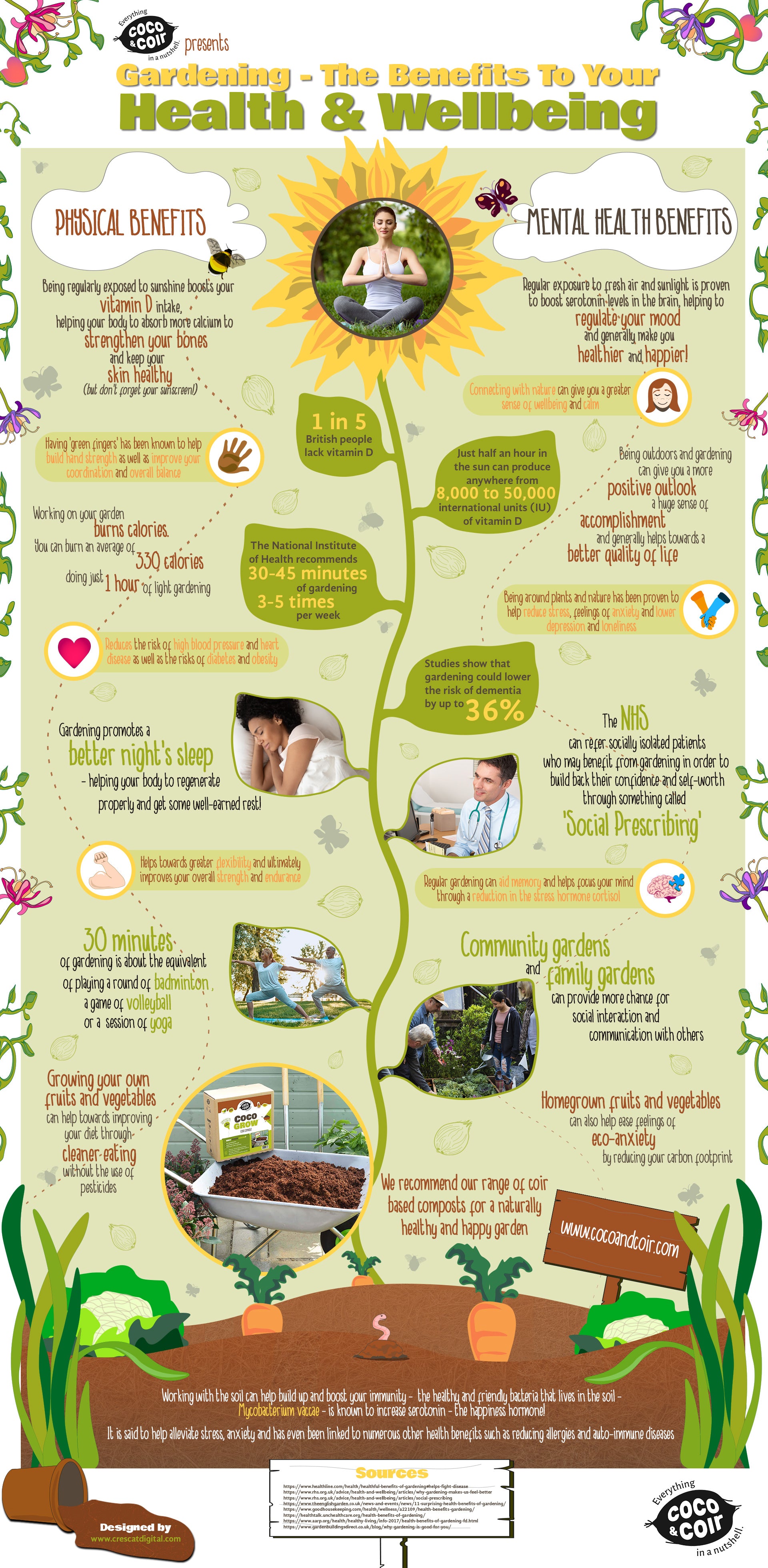 Hello, sunshine!
Just being outdoors alone has its benefits. It's probably not surprising that many of us lack enough vitamin D; being exposed to sunshine on a regular basis helps boost your vitamin D intake, which in turn produces more calcium to strengthen your bones and contributes towards keeping your skin healthy through active cell growth and repair. If you want to dig a little deeper, being amongst the soil can be just as beneficial; the friendly bacteria – 'Mycobacterium vaccae' – which is found in the soil, is said to aid your body's immune system, helping to fight against a multitude of allergies and auto-immune diseases. A great reason to get your hands dirty!
Sowing the seeds of happiness
It's not just your physical health that reaps all the rewards. Regular intervals of gardening and being outdoors can improve your mental health, not only by exposure to essential vitamins through sunlight and fresh air, but it also helps reduce cortisol in the brain – the stress hormone – meaning memory is improved and cognitive skills such as problem-solving is given a natural boost! Doing the odd jobs in the garden can ultimately help give you a sharper focus tending to the plants, a joyful purpose seeing their progress as you nurture them and a wonderful sense of accomplishment watching them grow. It's good to know that while you are caring for your garden, you're getting a little self-care back.
Better together
The NHS has even recognised the importance of gardening and how it can positively impact both your physical and mental health. 'Social Prescribing' is where GPs are able to refer patients who have become depressed and socially-isolated by encouraging them to integrate with others in a safe and positive environment. Gardening has been a key component to help those who otherwise might struggle with overwhelming feelings of anxiety and loneliness; by engaging with others in an outdoors environment, those patients who are referred by their GP are able to build up their confidence through social interaction, whilst also having something pleasant to focus on.
Community and family gardens in general are also proven to have a profound effect on wellbeing. Completing tasks in the garden helps keep your body flexible and is an excellent way to gradually build up your body's strength and endurance. It's also a fantastic way to increase communication with people of all ages. Young children in particular find small tasks in the garden a great learning experience and teaching them the importance of naturally responsible gardening practices and resources from an early age can be invaluable. From sowing seeds to growing fresh produce at home, it can all help towards educating children about the responsibilities of caring for the environment around them, as well as keeping them fit and healthy.
Clean food, happy mood
Growing fresh produce straight from the allotment or garden is an ideal way to introduce clean eating into your diet. Not only does growing your own food cut out any unnecessary plastic waste that many of us experience by buying from supermarkets, but by eliminating the use of pesticides in the garden, you'll always be sure exactly what goes on your plate.
When it comes to growing plants and produce in an ethically responsible and environmentally conscious way, we recommend our naturally sourced coir-based products such as our peat-free compost Coco Grow to give your garden a natural boost and your health a helping hand – because after all, a healthier garden leads to a healthier and happier you.