What to sow in November in the UK
Want to be gardening past Bonfire Night? Select the right seed and growing medium and you won't have to hang up your gardening gloves just yet! We've raked together some helpful advice and tips on everything from the best seeds to keeping plants warm.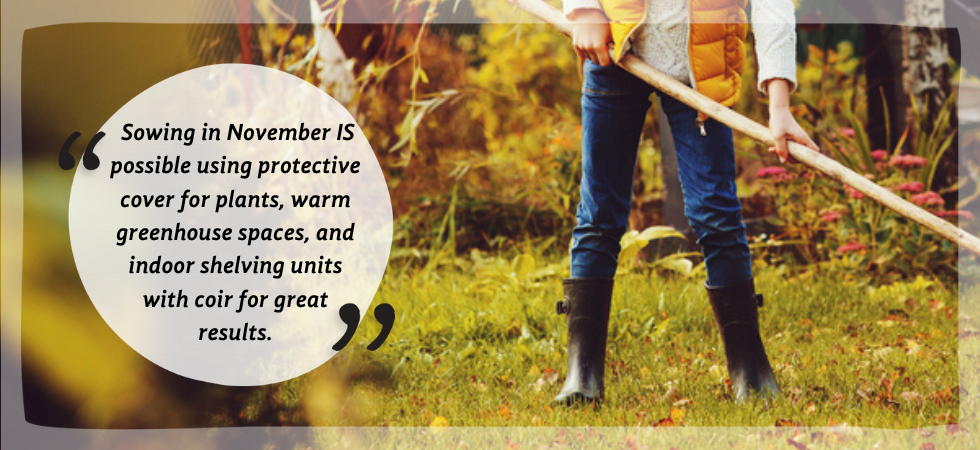 Why is coir good for autumn seeding?
To give your seedlings the best start in life, think about where you want them to put down roots. A loose and airy growing medium will give them the best start. But one that has good water retention. And of course peat-free, to preserve vital habitats.
Our coconut coir compost blends are ideal for growing seeds in raised beds, pots, containers and greenhouses. Our coir compost is 100% natural, biodegradable and sustainable too.
Keeping plants warm in coir
Fighting off the frost
In November in the UK, the main threat to young plants is frost. But how does frost kill plants exactly? Well, plants are full of water. When the temperature drops too low, the water inside plant cells freezes. Frozen water takes up more room. Not to get too Alien, but when the water expands, it bursts through the cell walls, killing the plant.
That's why it's really important to check how hardy plants are, meaning are they tough enough to survive outside during winter?
A horticultural 'big coat'
Coco coir fibre is an excellent thermal insulator. Architectural engineers have studied how coir can raise thermal comfort in houses, and it's a good choice for your plants too.
Planting your seeds in coconut coir compost will keep them cosier than other types of compost. Coco coir is also an excellent mulch, acting like a blanket to keep in heat and protect cold-sensitive plants like dahlias.
Tip: Keep an eye on indoor plants if they're in unheated conservatories or entrance ways. They may not suffer from frost, but many houseplants don't react well to massive fluctuations in temperature.
Seeds to sow in November
For veggies
Have you a greenhouse? Or a sunny windowsill? Then try sowing salad leaf seeds like mustard and spinach.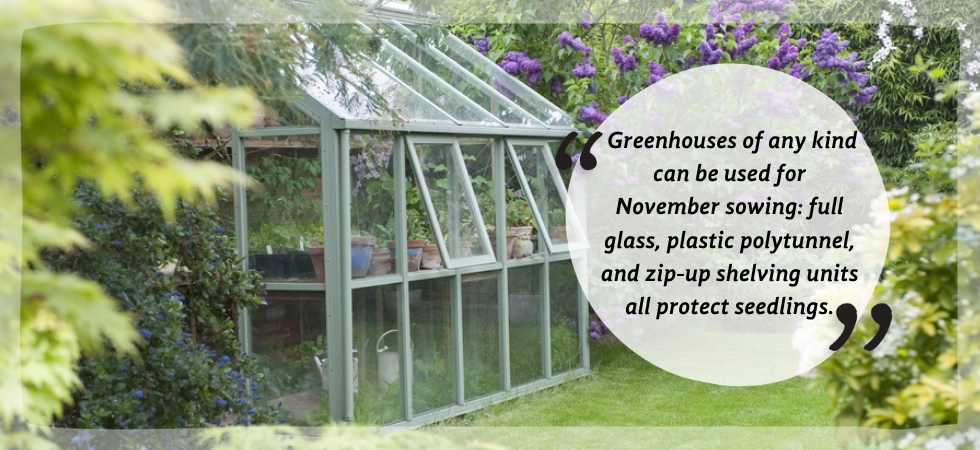 Broad beans are a firm favourite with our team's autumnal gardeners. You can pop them straight into the ground. Or grow them in our coco coir compost in individual pots. You can then transplant them into the garden at a later date. Aquadulce Claudia is a good variety.
Tip: Broad bean seeds are really big, so are perfect if you want to get little ones in on the act!
To prep for homemade pea soup in early spring, sow early pea varieties in November.
Some like it hot, and it doesn't get much hotter than chilli peppers. If you pop pots on a bright, warm indoor windowsill then check out varieties like Medusa and Apache.
Sowing hardy varieties of spring onion in November is fine, as long as they don't get soggy. Sow them in compost in pots. Then place them out of the rain in a greenhouse or under a cloche.
For herbs
Pick the right variety, and you can be seasoning those winter stews and soups with herbs you've grown yourself! Try parsley, chives or dill. A heated greenhouse is best. But a bright windowsill indoors works too.
For flowers
If you love sweet peas, guarantee earlier blooms next spring by sowing seeds in November. But they'll need to be kept in an unheated greenhouse or cold frame.
Sea holly (eryngium) is definitely having a moment in garden design. It needs a blast of cold to break their dormancy, so it makes sense to sow seeds in November in pots. You just need to store them in a cold frame or unheated greenhouse, ready to germinate in the spring.
Are you in a mild spot in the UK? Is it still dry and not too cold? Then it's fine to scatter wildflower seeds. Cornflowers, oxeye daisies, scabious and poppies are pretty hardy. However you can give them a boost by protecting fledgling seedlings by storing them in an unheated greenhouse or a cold frame.
How to sow seeds in autumn
If you want outdoor seedlings to thrive, take a look at the weather forecast first. Try to pick a time before a clear weather window of dry days. Torrential rain can easily wash seeds away.
To boost survival rates, it helps to shelter seeds in the first couple of weeks if at all possible. A greenhouse is best, but a cloche or cold frame can do the job too.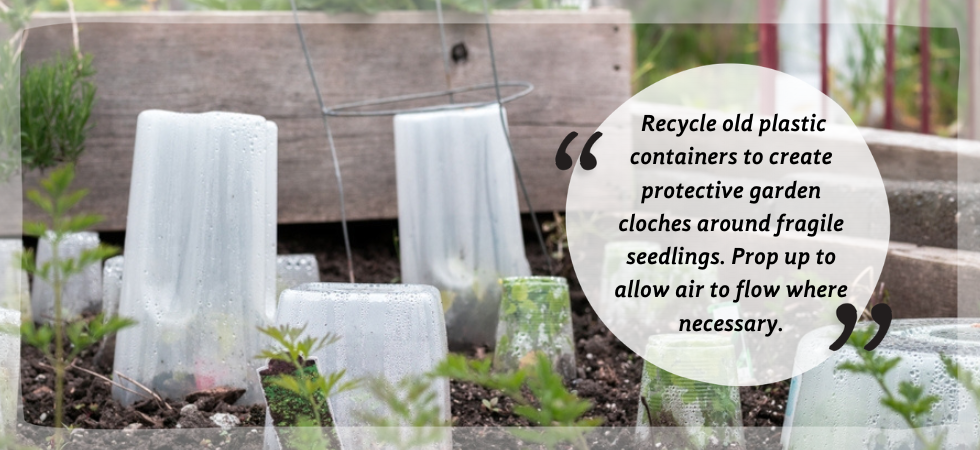 Make your own cloche
Not sure what a cloche is? It's anything that acts like a mini-greenhouse. It protects seedlings from heavy rain, but lets in light and air.
Before you buy one, why not consider recycling what you've already got? There are some fantastic suggestions in DIY Garden Cloche ideas from plastic bottles to sheeting from packaging.
Tip: Prop up cloches slightly to make sure the plant still has access to fresh air.
Tips from the 'Green Gardeners Guild' online advice library
On the lookout for more tips and hints? Our blogs are packed with advice:
• How to keep warm while gardening
• What herbs are good to plant in autumn?
• How to keep plants warm in winter
What have you sown in November?
We would love to see what you're raising in our coconut coir composts! Share your photos and tag @cocoandcoir on Instagram. We'll credit you for any images we use and you'll even get £10-worth of loyalty points for any of your stories we use!