The best doormat for cleaning shoes
Reading Time:
4
minutes
A good doormat on the threshold of your home keeps your floors cleaner for longer by removing dirt and mud from shoes before entering the house. It's most effective to have both a tough outdoor mat and an indoor doormat, for extra protection.
What are doormats made from?
Doormats are commonly made from synthetic materials such as microfibre, nylon or polypropylene blends, or natural materials such as coir doormats, cotton, or rubber.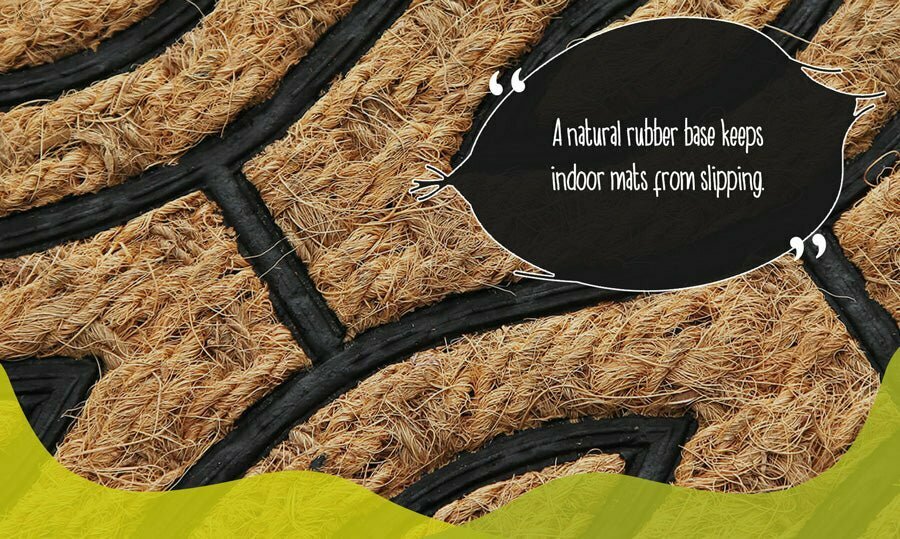 Which is the best doormat material?
Polypropylene, nylon and microfibre
Synthetic materials are a popular choice for industrial-sized and domestic doormats as they're cheap and easily mass produced.
Microfibres are very thin, layered together to create a larger surface area. This provides high absorbency for moisture and dirt. But as fibres are trodden underfoot, their effectiveness is reduced.
Nylon and polypropylene are durable: important for high volumes of foot traffic. Crush-resistant fibres hold their form, ensuring a long-lasting effective clean. Hard mats also stop wheelchair wheels from sinking or becoming stuck.
PVC is often used as a backing for doormats intended for outdoor use in cold areas. It resists cracking from repeated freezing and thawing, unlike rubber.
Tough coconut coir
While effective and cheap, synthetic materials come at an environmental cost. Many of these same benefits are present in natural coir doormats, which do not damage the planet.
A high concentration of stiffening lignin ensures coarse fibres that stand up to heavy footfall. Robust and tough, coir fibre effectively dislodges dirt from ridges in shoe soles, but is gentle on bare feet and pet paws.
Coconut oil present on fibres helps absorb and hold onto dirt and debris dislodged by coarse top bristles. This oil coating provides natural weather resistance, resulting in long-lasting outdoor mats that don't fade or stay damp. Those without rubber backing drain better in wet conditions.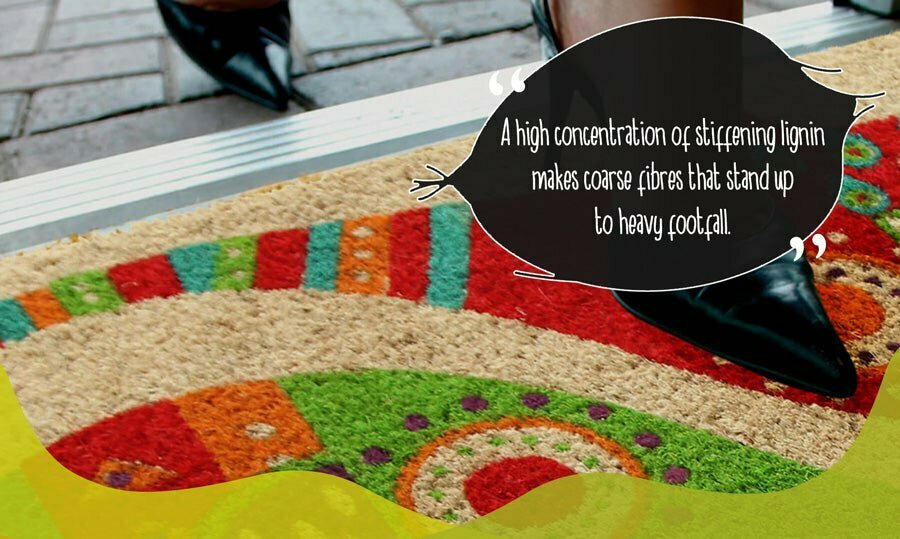 Other natural materials
Natural rubber bases keep indoor mats from slipping. Backing also helps contain dust and debris until shaken out, keeping the surrounding floor area clean.
Cotton is a popular choice for softer, indoor doormats. However, the soft fibres can quickly become compacted and ineffective through use. Highly absorbent, cotton can become odorous and damp as it harbours moisture and bacteria.
Ease of maintenance
The best doormat is only as effective as it is clean. Doormats that are easy to maintain are therefore likely to perform better, for longer.
Synthetic doormats
Moisture can be harboured by synthetic fibres, leading to mould and mildew. Hard plastic or rubber mats can be hosed to remove dirt and mud. However, oily substances may be absorbed, making them hard to clean.
Polypropylene is stain-resistant. Nonetheless, the chemicals and resources needed to produce this effect should be considered. Purely aesthetic considerations lead to waste, especially as plastic-based mats are destined for landfill after use.
While many modern doormats can be machine washed – which also restores the texture of compressed material – synthetic fibres will release microplastics into waterways when washed.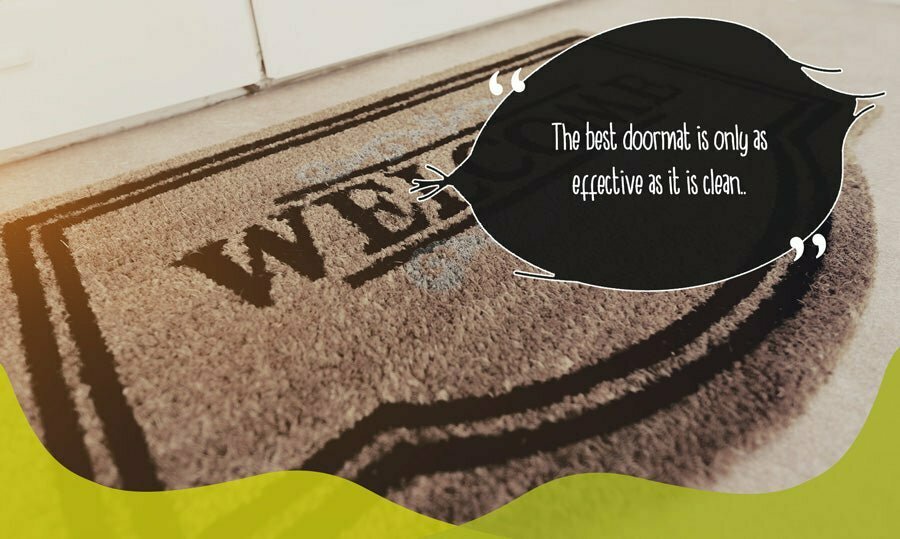 Cleaning coir doormats
Most dirt and debris can be removed from a coir doormat with a strong shake or light hoovering. Doing this once a week removes build-up to keep your doormat working effectively.
Consult our step-by-step guide for in-depth instructions on how to clean a coir doormat.
While some coir fibres can come loose when shaken, scrubbed, or hoovered, these fibres will harmlessly biodegrade, unlike polluting fibres from synthetic doormats.
Coco coir's natural sterility, boosted by coconut oil, helps to protect against mould, mildew and damp.
Making sustainable choices
Synthetic doormats have some benefits in terms of convenience, but none that greatly outstrip coir mats.
A natural resource, coconut coir is manufactured from coconut husks left over from agricultural harvests, reducing landfill waste. Responsible manufacturers use natural processes to utilise coir, whether as a material or for environmentally friendly peat-free soil alternatives.
With no harmful chemicals, and no microplastics, coco coir is fully home compostable at the end of its usable life. It even makes your compost heap more efficient.
If composting a doormat, remove any rubber or metal backing and fixtures first.
Stylish, sustainable coir doormats
There's no need to choose between style and function. While some will be better suited to outdoor use, all our coir doormats are equally effective, offering great value and long-lasting quality. Most importantly, they're easy to look after and won't negatively affect the environment.
Browse our range of styles today to find the one to make your home sustainable – from the first step.