All You Need To Know About Compressed Coir Compost
The low-down on compressed coir compost
So you want to give your precious plants a boost. But if you're thinking about heading out to grab a bag of compost, stop! What if there's a more eco-friendly alternative, like compressed coir compost?
Compressed compost vs bagged compost
You've probably seen bags of compost stacked up at garden centres and at supermarkets. In comparison, 'bricks' and 'bales' of coir compost look a bit, well, small. But as the saying goes, size doesn't matter. It's what you do with it that counts!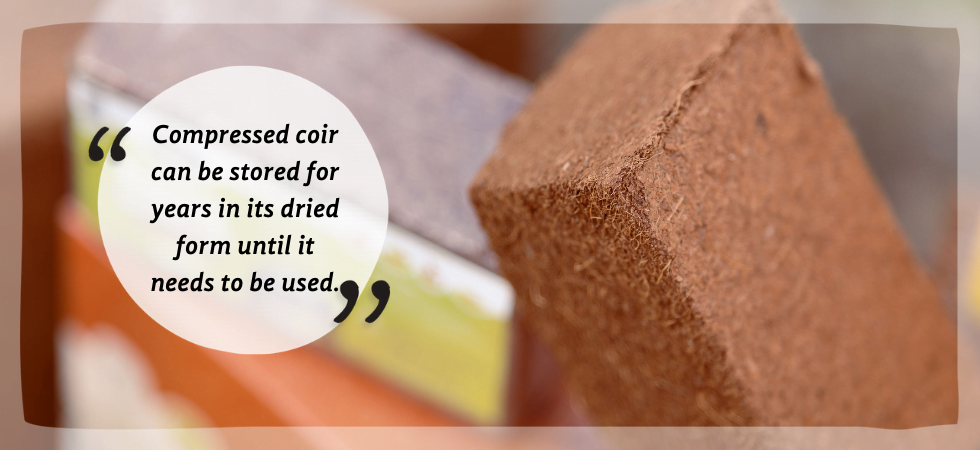 Lighter on the planet
Unlike Mirabel's older sister in Encanto, ("We don't talk about Bruno…") coir responds really well to pressure. Coco coir is dried and compressed to save resources. Think about it – what weighs more, air or water? Compressed coir compost is lighter than other types of compost, so uses less fuel to transport. When you need some compost, you just add water and watch the compost swell up to 5 – 7 times its original size. Magic!
Lighter to carry
If you don't have a car, transporting bags of compost can be a real pain. But compressed coco compost is light enough to be delivered to your door. It is also ideal for storing away for when you need it. It will stay in its small compact block until you decide to add water. Store in a cupboard for a not-so-rainy day, and get gardening!
Fights climate change
Bags of compost often include peat, which is made from decomposed plants that have taken thousands of years to rot down. According to the International Union for Conservation of Nature, peatlands store more carbon than all vegetation in the world combined. Wow. But damaged peatlands emit greenhouse gases. As well as destroying vital habitats that help prevent flooding and create clean drinking water.
If you go peat-free with coconut coir compost, you definitely earn a swish your virtual eco-super hero cape! Or your actual one. #NoJudgement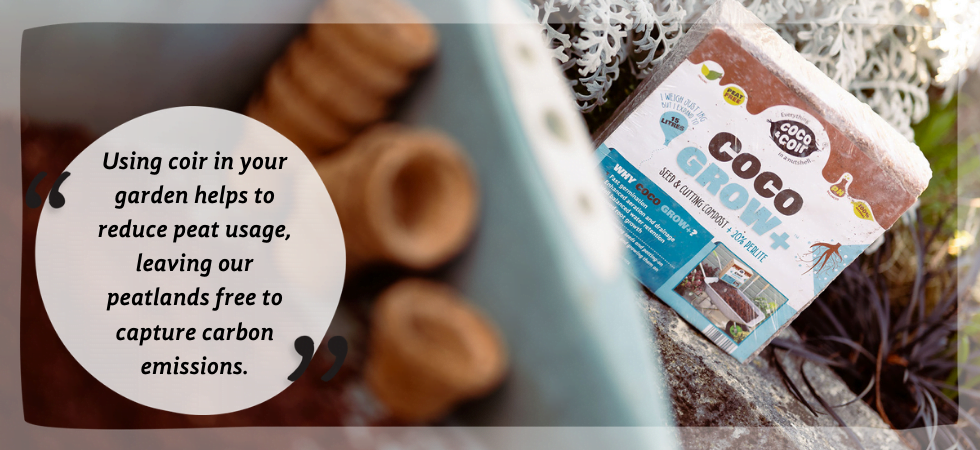 Zipping it up
There are lots of processes in creating coconut coir compost. For the highest quality compressed coir compost, it's important not to take short-cuts. This is our drying and compression process:
1. The coconut husk is sieved by machine
2. The sieved husk is compressed into blocks or 'bricks'
3. The 'bricks' are left to dry naturally in the sun. We don't use machines as this could damage the fibres and turn them into dust.
Space-saving gardening tips
If your gardening realm is a window box, houseplants or a small patio, it can be tough finding a spot to store your gardening gear. One bag of compost on a small balcony could ruin any chance of squeezing in a chair. Or your favourite plant!
Enter compressed coco coir compost. It's sterile and doesn't activate until you add water. This means that, unlike compost bags that could leak or smell, you can store coir compost inside your home. Seriously. One of our team stores a box of our all-purpose compost in her wardrobe and some 'bricks' in a kitchen cupboard instead.
Mixing coconut coir with regular compost
Want better water absorption, a looser soil structure and to make your compost stretch further? Mixing coconut coir with regular compost can do this. It's particularly good at boosting 'wet' home-made compost. Plus compressed coir compost lasts longer in soil than peat-based composts
If you have clay garden soil, coconut coir will reduce waterlogging. In sandy soils, it will help it hold on to more water for longer. Clever eh?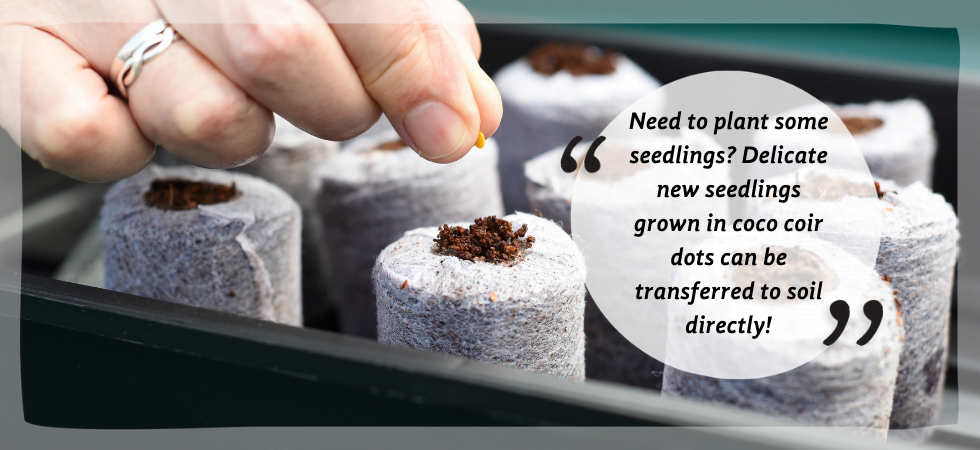 Less stress with compressed coco coir compost discs
If you need compost for root cuttings and young seedlings, there's an even dinkier solution! Coco Dots  are natural coir pellets wrapped in biodegradable net. As with other coco coir compost, you just add water to create a compost plug.
Rather than extracting delicate seedlings when it's time to pot on, you just plant the pellet straight into the new pot. It makes life a lot less stressful for both you and your plants!
Tips from the 'Green Gardeners Guild' online advice library
Would you like to learn more about compressed compost? Our blogs are crammed with advice:
• What to look out for when buying coco coir
• Differences between coco coir peat and sphagnum peat moss
Let us know what you think about compressed coir compost v bagged compost
We'd love to see how you and your plants are getting on with our compressed coir compost!
Please post your pictures and tag @cocoandcoir on Instagram. We'll credit you for any images we used. Plus you'll be in with a chance to win some Coco & Coir goodies for your sustainable garden.