Compostable plant pots – Let's go plastic free
Reading Time:
4
minutes
Winning at life with compostable plant pots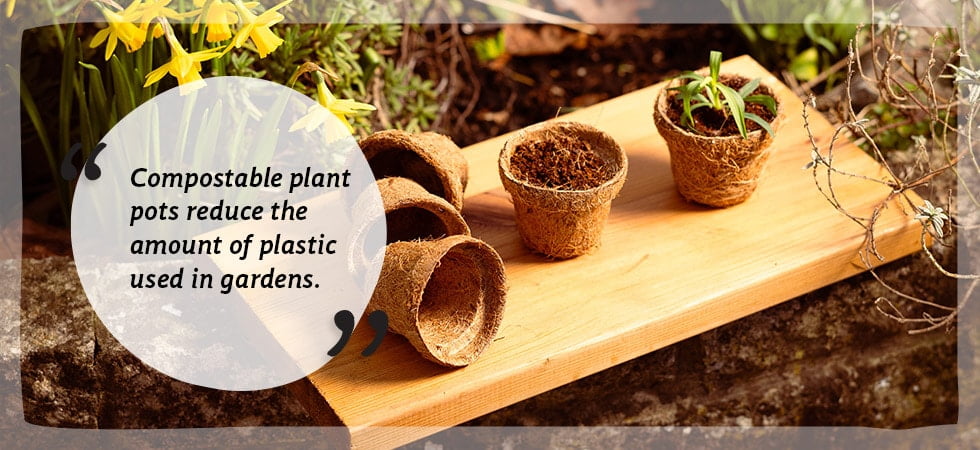 Compostable plant pots can be a gamechanger for gardeners. If you're looking for a solution that is better for your seedlings, your wallet and the planet, they can be the answer! There are a range of options available including our new coir plant pots, but also many other great ideas which surely mean we can get rid of those pesky plastic pots!
The recycling conundrum
There are an estimated 500 million plastic plant pots in circulation every year (Source: Which? Gardening). But the black plastic plant pots beloved by garden centres are notoriously difficult to recycle. According to Recycle Now, their colour makes them invisible to automatic sorting machines used in recycling plants.
Many garden centres are now working hard to make the switch to lighter coloured pots. We've seen some lovely sage green and stone brown colours which can be recycled. Just check with your local council. Also any garden centre which is a member of the Horticultural Trade Association will accept old plant pots, and send them to a specialist recycler to be re-used.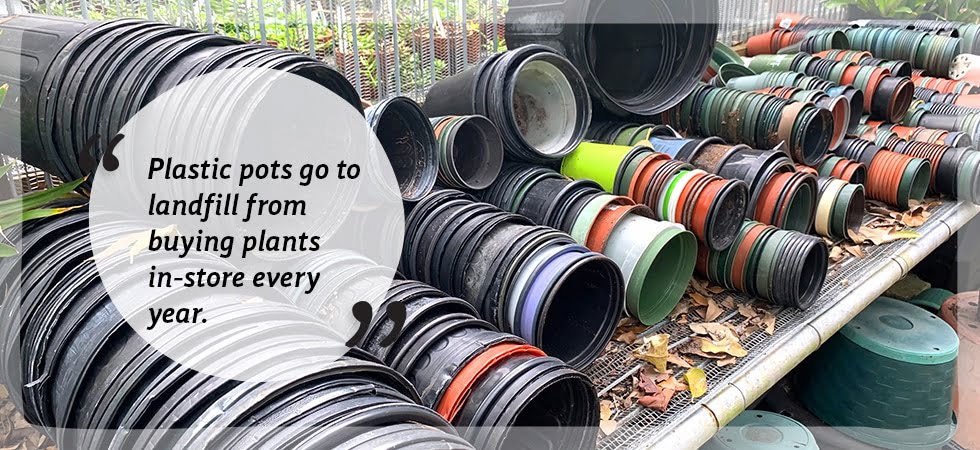 If you want to go totally plastic-free, there are lots of eco-friendly options to choose from.
Best propagation pots for your growing garden
Raising plants from seed or cuttings, known as propagation, is enormously rewarding. By growing your own, you're also cutting down on plastic plug plant containers, so give yourself another pat on the back. However, baby plants can be as fussy as their human counterparts. This is especially true when it comes to transplanting delicate plants like beans, coriander, cucumbers or poppies.
Using a biodegradable plant pot like those made from paper to grow and propagate seeds means you don't have to rudely up-end them, disturbing their delicate root system. Instead, you just plant them in the ground, pot and all, and the casing naturally breaks down into the soil. No risk of transplant shock. No washing the pot out. No tottering towers of 'just in case' pots to squirrel away. Result!
Types of biodegradable seedling pots
DIY recycled newspaper pots
There are many ingenious wooden presses out there to help you shape damp newspaper into pots. Just don't move them straight after you've watered them, in case they disintegrate!
Transform toilet roll cardboard inners
If you can collect enough of them, these cardboard cylinders make for great biodegradable plant pots. Remember to tuck in one end before adding any the compost. They will also need air circulation to avoid getting mouldy, so snip a few holes around the sides of the bottom to allow air in.
An egg-cellent idea
Don't throw away those eggshell halves! Once washed out, they can make great seedling pots. Pierce a hole in the bottom so water can drain out, then add soil and seeds. Or just plant up your cardboard egg cartons. As long as there is drainage and the seed can develop a rootball, you'll have a young plant ready for the next part of its journey.
When life gives you lemons…
A hollowed-out lemon, lime, orange or other citrus fruit half can be planted up with soil and seeds if you add a hole to the bottom. Just bear in mind the acidic nature of citrus fruit means this method can change the pH level of the soil. While some plants benefit from higher acidity, others won't.
Cute coir pots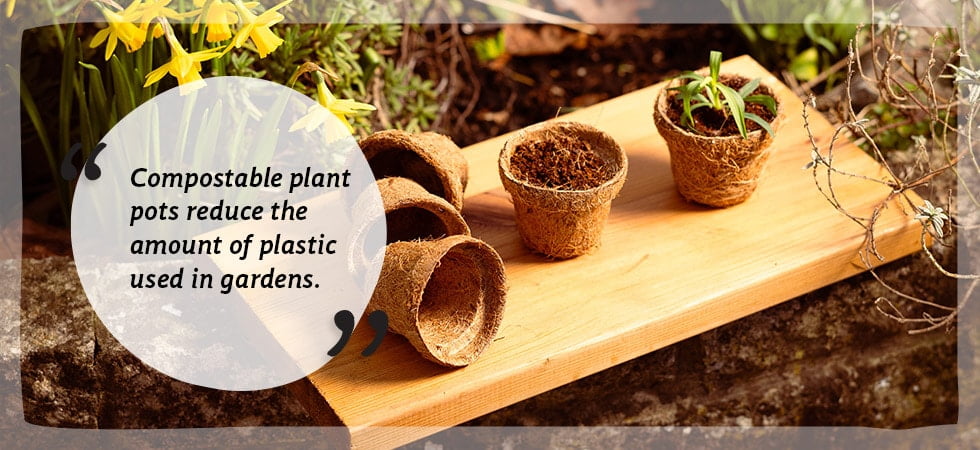 This new addition to the market provides the durability and varied use of a plastic pot, but plastic free! Coconut coir fibre pots are an affordable, mess-free option for growing healthy plants in your home, greenhouse or propagator. Created from sustainably sourced natural coconut husk or 'coir', they will biodegrade beautifully into the soil or your compost if left. But can also provide a few years of re-use depending on what it's being used for.
Plus they contain a small amount of potassium to support root development. This is released as the pot naturally degrades.
The 6cm wide variety are ideal as seeding pots and propagation pots. The larger sizes ranging from 8cm – 20cm are perfect for potting on without the plastic, or as plant pot liners.
Pro tip: Their water holding capacity make them especially good as liners for larger ceramic pots for indoor plants.
Boost your home-made compost
When you need to recycle your coir pots, just add them to your compost. The best home-made compost ratio is three parts brown materials like cardboard, hay and straw, to one part green. If you recycle your food scraps into a compost maker, you might find your compost can be on the wet side, even slimy. This is probably because you're overloaded it with too many green materials, such as kitchen waste and prunings. End of life biodegradable coir pots can help adjust the balance.
More tips & advice from our Green Gardeners Guild
Want even more tips and hints? Our blogs are packed with advice:
• Using coco peat to grow plants in pots
• How to grow plants from seeds: step by step
• How to grow vegetables in coco coir peat
Share your wins with our coir pots
We love seeing our compostable plant pots brimming with seedlings and cuttings, so do post your pictures! Please tag @cocoandcoir on Instagram or on Twitter