Sustainable Fibres: The Benefits of Coco Coir Doormats
Reading Time:
3
minutes
More and more people are turning towards environmentally friendly and ethically sourced products for their homes – but have you considered taking steps to be more eco-friendly when it comes to stepping over the threshold of your home?
Coco coir has rapidly become the popular choice for doormats, in contrast to more traditional alternatives, with which to adorn various entranceways to homes and offices; the main benefit being that coco coir doormats are not made from artificial materials and are, in fact, naturally and sustainably sourced – which is a not only a boon to the environment but makes for a stylish addition to your space. Not to mention a fantastic festive gift for the holidays.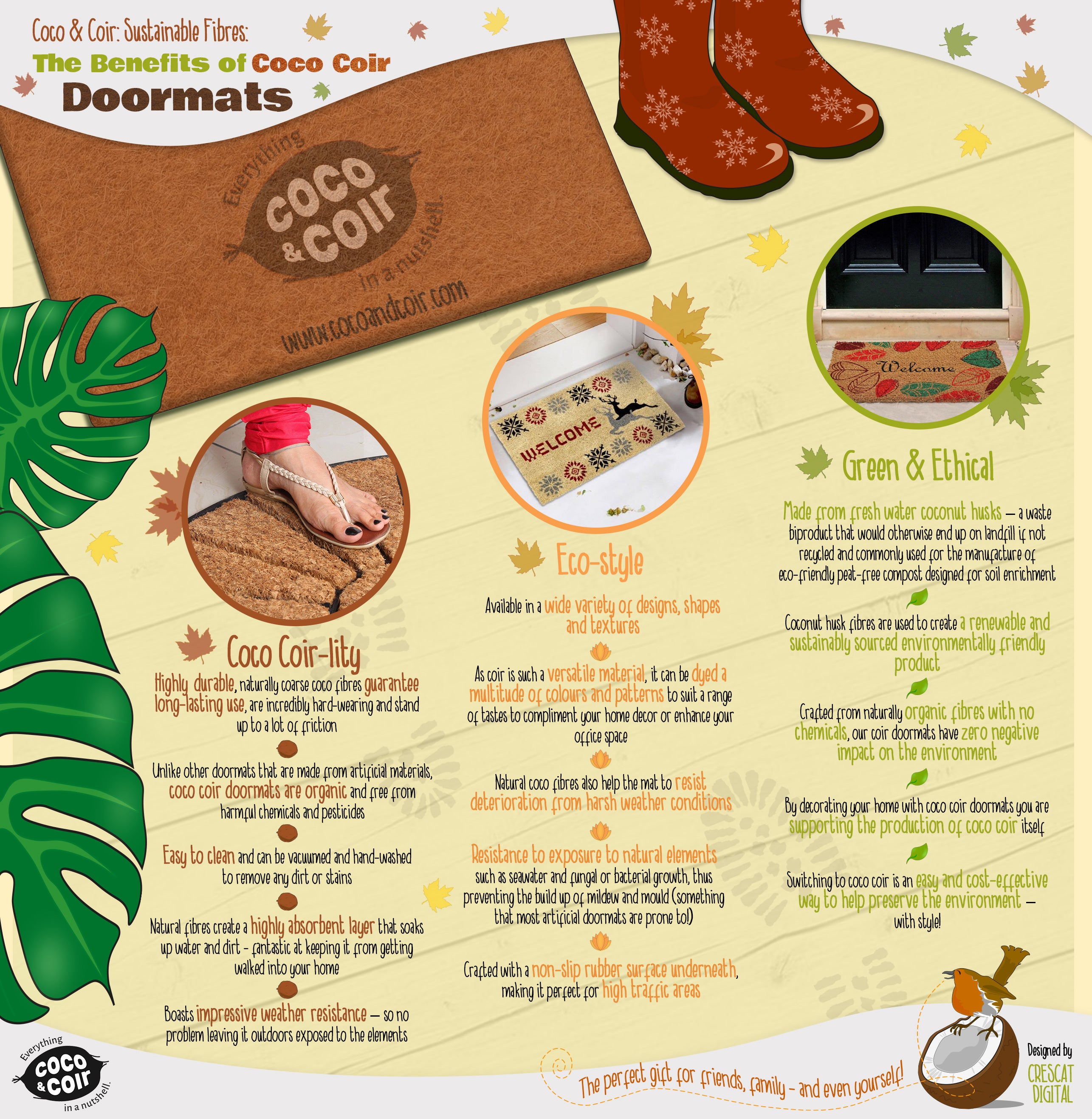 VIEW THIS INFOGRAPHIC IN HIGH RESOLUTION
Organic and Ethical
With much of its agricultural roots originating across Asia, the fibres from coconut husks (known as coir) are derived from fresh-water coconuts and are actually a waste product of the coconut itself. Without reusing the coir fibres, much of it would end up discarded on landfill and ultimately contribute to our planet's ever-growing and ever-concerning global climate crisis. Through cultivating the coir and putting it to good use through manufacturing goods such as coir doormats or – as it is most commonly used for, the production of peat-free composts – this natural biproduct is recycled as a result and its waste heavily reduced. By choosing natural alternatives to artificial doormats, for example, you are helping to support the industry in sourcing ethically renewable products.
Being made from coarse fibres, coir doormats are extremely durable and due to their organic structure, create a naturally absorbent layer in which to soak up excess moisture, highly effective in preventing dirt getting trodden through into your home. Perfect for high traffic areas, they are resilient to a large amount of friction and are excellent at resisting deterioration through mould and mildew from exposure to the elements. They are also incredibly easy to clean, being receptive to vacuuming and hand washing excess dirt and stains to retain their shape, texture and design. Being weather resistant too is a key feature of any doormat, and coco coir doormats are no exception; extreme exposure to the outdoors is no problem for these hardy additions to any doorstep.
A Welcome Sight
Being so versatile, coco coir is an excellent material when it comes to customisation. Due to the nature of the fibres, coir can be easily dyed a multitude of hues and patterns. As well as colour, the coir can be formatted into different shapes and textures to create unusual decorative mats to welcome your guests to your home, or even put a smile on your own face after coming home from a long day.
At Coco & Coir, we have a vast range of in most common door sizes. Plus, over 80 designs to suit all different interior styles and tastes, from the more conventional and simplistic "Welcome" style doormats to the quirky and more offbeat options. With so much choice, it won't be difficult to find something that compliments your décor.
A Step In The Right Direction
Crafted with care and expertise, coco coir doormats are an easy and cost-effective solution to keeping your porch area clear whilst injecting a little personality into your home's appearance. Due to the natural fibres they are made from (unlike other doormats on the market made from artificial materials), coir doormats contain no harmful chemicals or pesticides, meaning they have zero negative impact on the environment.
By choosing a doormat made from coco coir, you are not only making an environmentally-friendly and sustainable choice, you are putting your best foot forward and stepping towards a greener tomorrow, today.