Sustainable ways to revamp your hallway
Reading Time:
4
minutes
Sustainable ways to revamp your hallway which won't break the bank
Opening your front door and walking into a welcoming entrance space is such a pleasure. But often the importance of that first impression is overlooked in favour of renovating other rooms. Plus applying eco-friendly principles can be daunting. Check out some sustainable ways to revamp your hallway which don't have to cost the earth.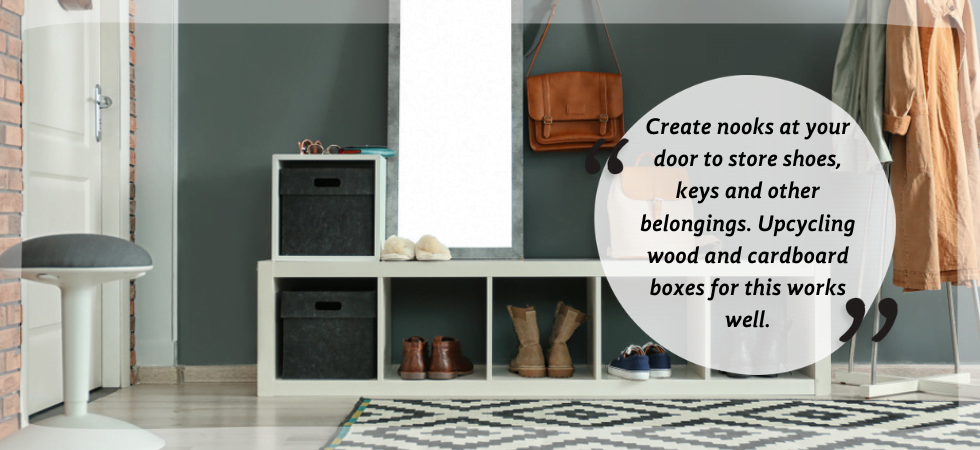 How can we be more sustainable at home when overhauling a hallway?
According to Checkatrade the average cost of renovating a UK house ranges between £50 – £428 per square metre. But by planning ahead and thinking creatively, you can transform a space for far less.
How do you use your space?
Before you do anything, take note about what works and what doesn't in your hallway. Do you have a 'dropzone' to immediately put away keys, bags and coats? Can the kids actually reach the hooks to hang up their stuff?
Having a think then making a list means you're more likely to source only what you need, rather than shop on a whim.
Roll up your sleeves
OK, a deep clean won't be top of anyone's list when it comes to renovations. But a spruce-up may make you realise your hallway isn't as bad as you thought. Plus having a clear-out will let you see what space you're working with.
'Shop' own house
Rather than bringing in yet more items into your house, can you repurpose something you already own to use in your hallway? Tin lids and soap dishes make great key trays. Slim bathroom storage cabinets work really well in small hallways. If you need a small shelf, why not hang an old drawer vertically so the back of the drawer front forms a horizontal surface? And those bundled up curtains from your old living room could be the perfect draft excluder if hung up near the front door.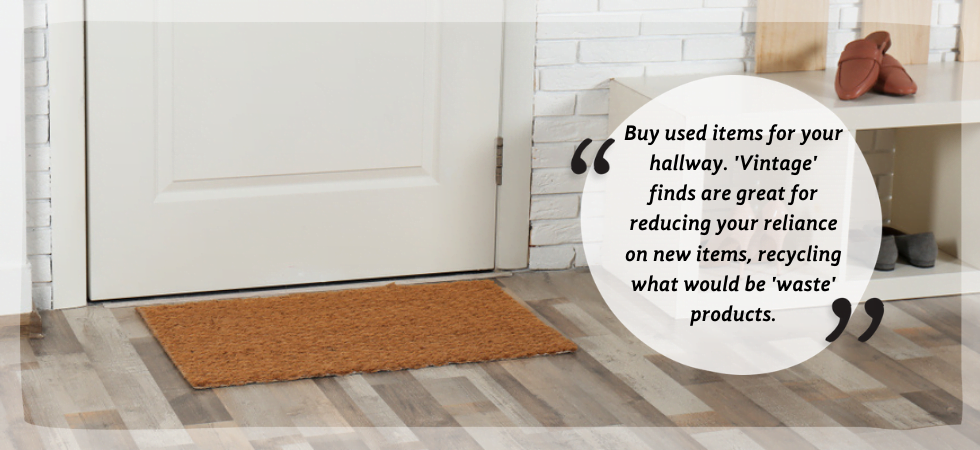 A brush with genius?
Paint is the quickest and cheapest way to transform any interior space. You can transform walls, floors, trimwork such as skirting boards and coving, doors, ceilings and furniture.
Strapped for cash? See if your local community furniture store sells already opened paint cans for less. Or mix your own one coat furniture paint from leftovers following the steps in this video by Black Sheep House.
If you do buy fresh paint, make sure it's water-based and has a low VOC rating (Volatile Organic Compounds). You're less likely to get a headache from the fumes too!
Keep it out of landfill
Try to adjust your thinking from new to 'new to you' pieces, and go pre-loved or vintage. Facebook Marketplace can be a great source of finds, as can local charity shops and car boot sales. Or ask family, friends or work colleagues if they're getting rid of anything.
Sustainable home decor ideas
There are so many planet-friendly ways to zhuzh up your pad!
• Go green with the biophilic design – as in plants, plants and more plants! They kick out oxygen, keep the air rehydrated and look pretty darn good. Plus we know just the peat-free compost to plant them in…
• Use natural materials which can grow again, rather than one-use plastic. Think FSC certified wood, wicker, rattan or bamboo.
• If you can't go natural, can you go recycled? Plastic is now being re-used and re-shaped into many exciting designs, from rugs to chairs.
• Reupholster rather than replace. A worn seat pad can be transformed with some fabric and a staple gun.
The quick win: Welcome coir doormats
If you want to elevate your space while being eco-friendly, coconut coir doormats are the answer. They're 100% natural, organic by-products of the coconut industry. No microfibres, nylon or polypropylene involved!
Take a look at our range of indoor and outdoor doormats, with designs ranging from plain to polka dots.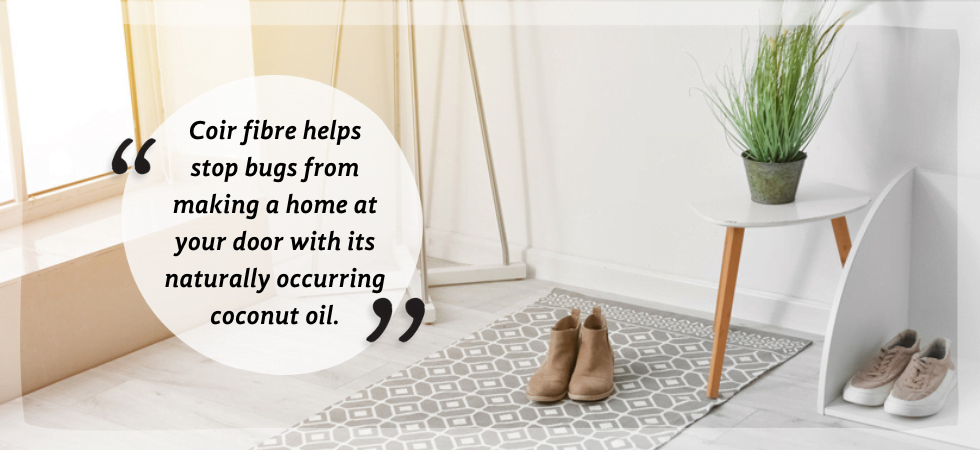 More online inspiration
Whether you decide to decorate with doormats or houseplants, our blogs are packed with advice:
• The benefits of sustainable coir doormats
• Potting soil for indoor plants
• Is coir compost good for succulents?
What are your favourite sustainable ways to revamp your hallway?
Just completed a home renovation of your own? Then please share your tips and results! Just post your pictures and tag @cocoandcoir on Instagram. We'll credit you for any images we use and you'll also be in with a chance to win some Coco & Coir goodies for your sustainable garden.