Green Gardener's Guild Chat With: Third_Floor_Garden
Reading Time:
5
minutes
One of the reasons that Coco&Coir created our compressed coir bricks was to save space for homeowners and gardeners who simply don't have the space to store bulky gardening wares. Our easy-to-store coir is a perfect fit for those who are gardening in smaller spaces and containers – just like this week's featured gardener we spoke with!
Emma (Third_Floor_Garden on Instagram) specialises in growing her beautiful garden from her balcony. It can be a challenge for some to imagine a smaller outdoor space – especially one that can often be challenged by more shade or wind than a typical garden. However, we don't believe that these have to stop anybody from having their own little green haven. A balcony can be the perfect place to create your dream garden, just as Emma has managed to do!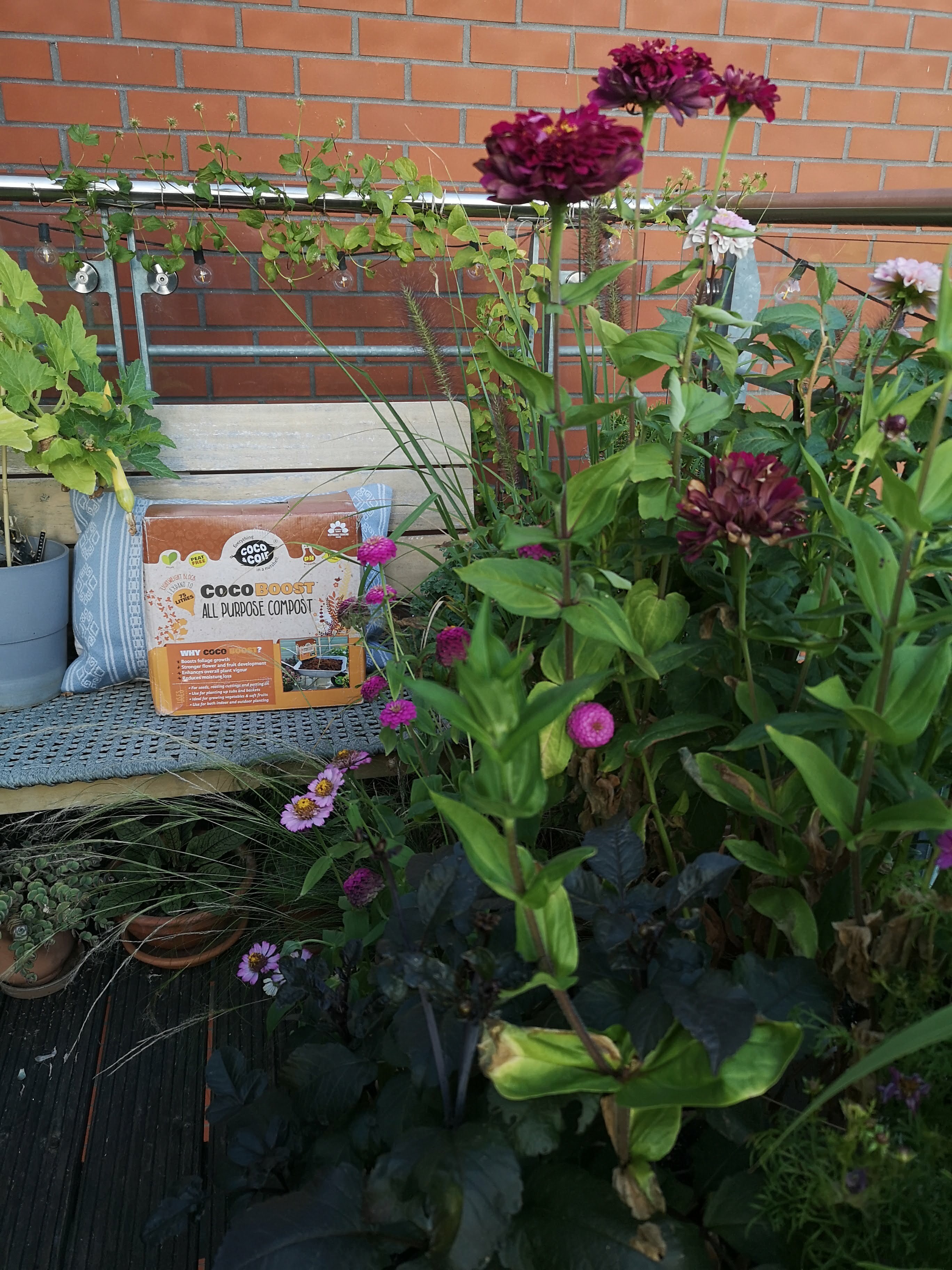 Let us allow Emma to introduce herself and her garden, giving us a little bit of information about her garden in her own words: "I'm Emma and I live in East London! I've got a small flat on the third floor, so my balcony is my growing space. It's not big, but we've managed to squeeze lots of pots and a couple of benches out there. There's also a little set of metal shelves which are great for seedlings.
[I grow] mainly decorative plants! I prioritise types which are pollinator-friendly and love seeing them visit the balcony to refuel. Snapdragons and Echinacea have been my favourites for that this year. I also wouldn't be without my herbs like rosemary and thyme, and grow the odd vegetable like courgettes, beets and chillies.
I am definitely a hands-on gardener, 90% me with a little help from my fiancé now and then. I love starting plants from seed / bulbs / tubers and seeing them grow. It's so satisfying!"
What stands out in Emma's garden is the variety of plants that she has been growing in the space available to her. From a list like this, you may expect to have to use a larger garden space – but you don't need to invest too much space and time to create a wonderful garden. Using containers on a balcony or around your home and garden can provide fantastic places for you to grow a variety of plants, and adding coconut coir as either the entire growing media used or in a mix with organic compost material can provide the excellent growing conditions needed to grow from seed and to support larger plants, and even grow vegetables in containers!
Though Emma's garden looks incredibly beautiful and professional, Emma did tell us that: "When it comes to container gardening, I'd call myself an intermediate. Although it was definitely trial and error at the start! If someone gave me a plot of land I'd have absolutely no idea though!" It's true that there is a large jump between container gardens and allotments, but there's nothing to worry about when it comes to switching between containers and larger spaces – we have plenty of resources here at Coco&Coir to give you a great start to your garden, no matter its size. You can browse through our blogs for information – including starting no-dig gardens.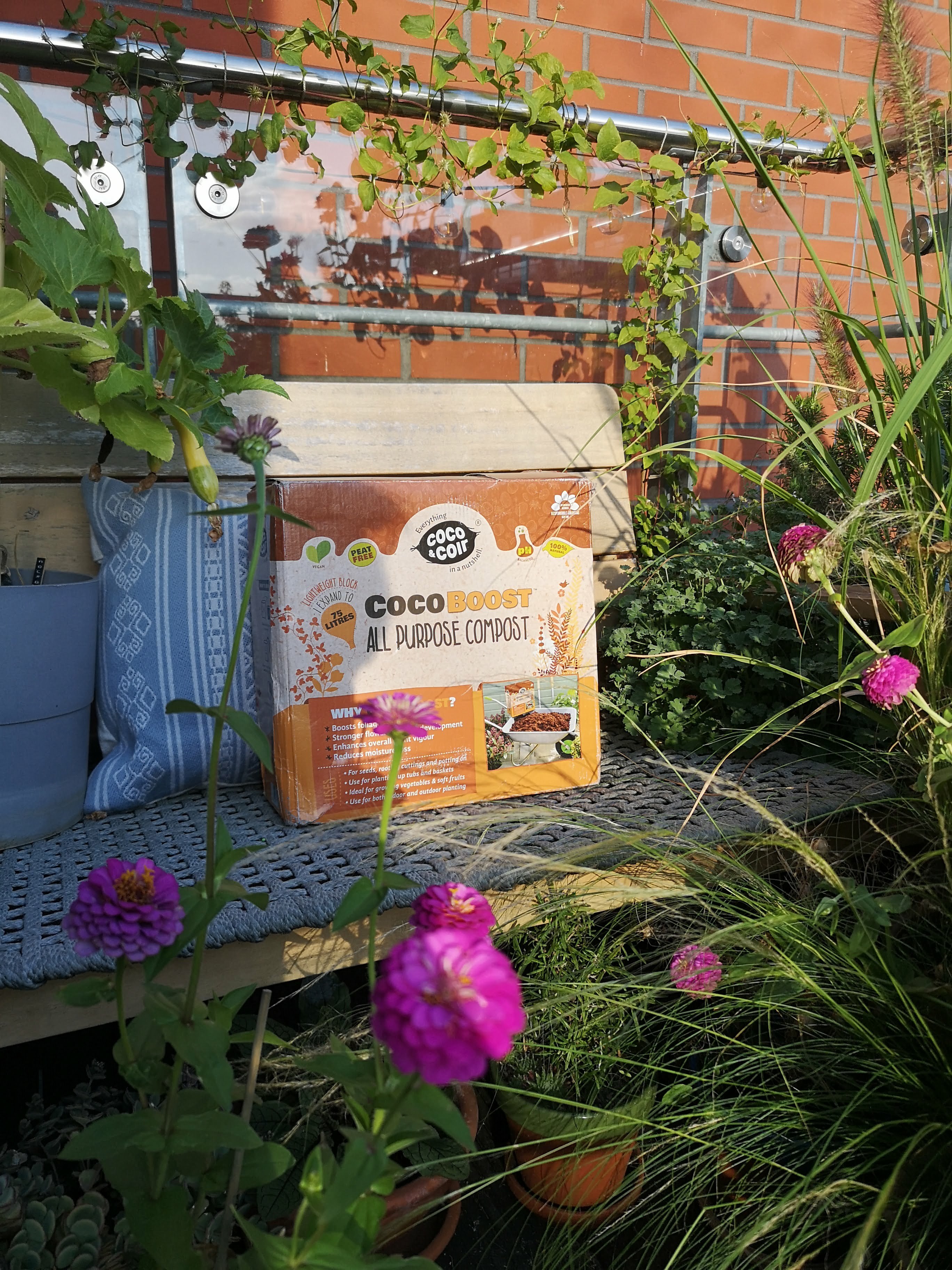 We also wondered what Emma's biggest difficulty when balcony gardening is, and she said: "Watering! It's a bit of a nightmare trying to keep the pots watered without it all dripping down to the balcony below." Quite a unique challenge – but one that I am sure other balcony gardeners can relate to, not just in keeping water away from the neighbours' balconies but on streets too. Ways to avoid this can be to use trays underneath some of your containers, or to use slow-release watering systems. Trial and error is the name of the gardening game! Find what works for you, and remember that every failed attempt is another lesson learnt.
We love to discover what it is about gardening that keeps all of our Green Gardeners excited to continue with their green paradises and continue to invest into their horticulture hobby. We asked what it is that Emma enjoys most about gardening, and she replied: "Probably the sensory aspect – growing things which smell or taste lovely, or have beautiful colours."
Growing plants is a fantastic way to improve your mental health, and the sensory benefits of plants are ones that should not be underestimated. For those who can benefit from experiencing different textures, colours, and scents, growing a variety of flowers can provide an area filled with new experiences that can not only become soothing, but become a great and healthy way to spend some of your free time.
At the Green Gardener's Guild, sustainability is one of the key elements of gardening that we love to emphasise and discuss. Creating sustainable gardens is just one small part of our lives that we can use to make a difference and protect our environment while educating others on its importance. Small changes in thousands of homes can make a big difference. We asked Emma if she considered herself to be a sustainable gardener, and she happily replied: "I do! Growing mainly from seeds and bulbs helps to cut down on emissions. I also recycle most of my compost – topping it up with fresh stuff to make it last longer."
Recycling compost is a fantastic suggestion, and one that we agree is great to do. Did you know that coconut coir can be reused time and again? Coco Grow being 100% natural coconut coir is able to be used time and again for your plants, and as Emma does, if you add extra nutrients and organic materials now and again to provide more feed for your plants, you can get more use out of your growing media.  Emma has used peat-free compost previously in her gardening projects, both recycled and new, and after using Coco Boost, said: "Coco&Coir has so much added goodness – it was really impressive to see all the slow release feed in there. The blocks of coir compost are so easy to store too, which is really handy when you don't have a shed like me."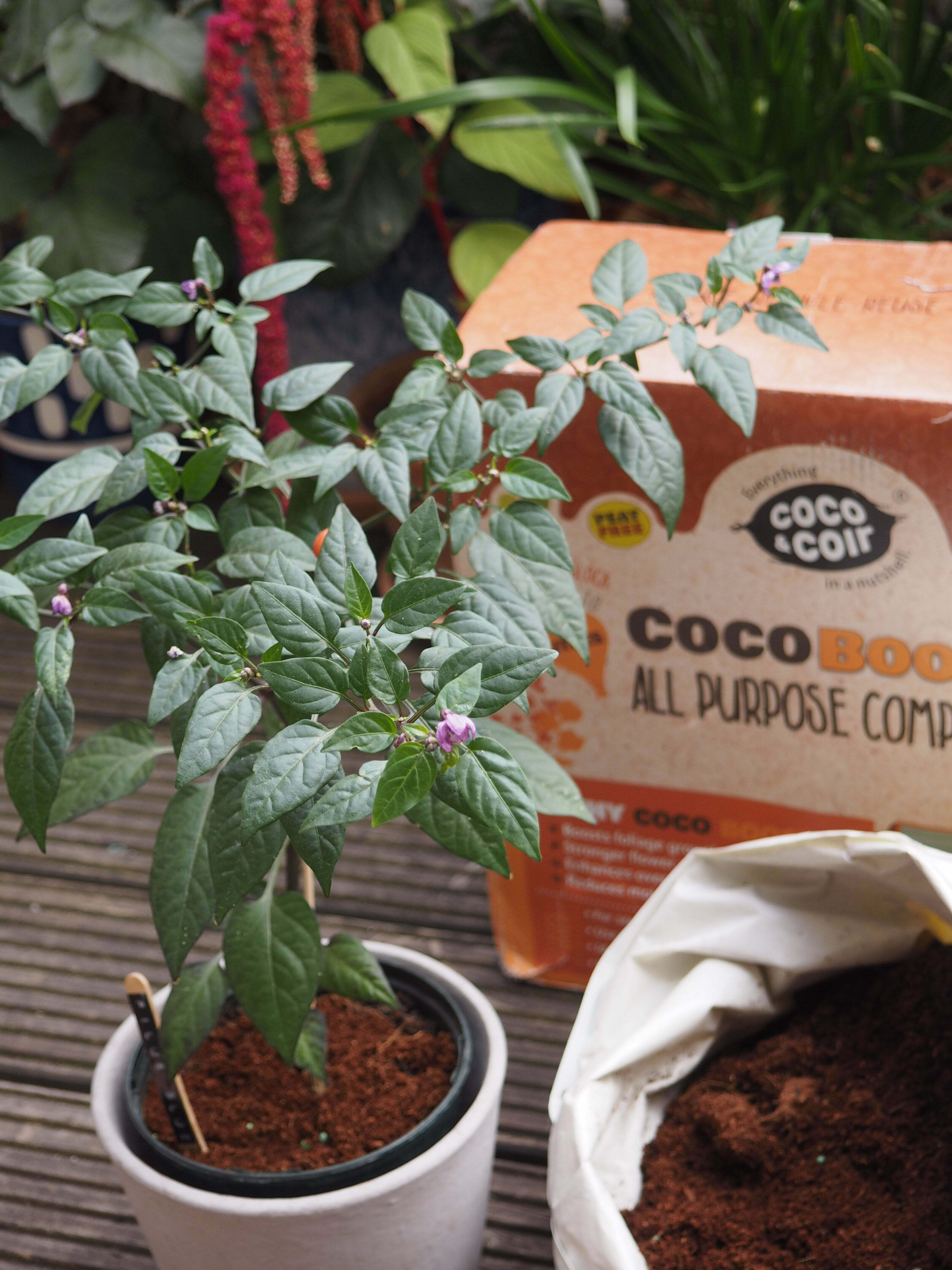 As for our last question? Well, it wouldn't be a Green Gardener's Guild chat without asking what our Green Gardener would love to grow, if our climate allowed it! Emma loved this question, and her choice was one that I think many of us would love to see in British gardens too, if we could: "A giant banana plant would be really cool if you had the space and lived somewhere mild." While we might not be able to tend to a banana plant, you can use coir for other tropical plants – including helping to grow pineapples! Just plant the pineapple top into some coir, and watch as it takes root.
Thank you to Emma for the fantastic photographs and answers to all of our questions. We are delighted to be able to share the story of your garden, and look forward to seeing more from your little balcony garden.
If you would like to share your own garden's story, get in touch with us – we'll even give you £10-worth of credits to use on your next shop here at Coco&Coir for every story that we publish!
Visit us on Instagram and follow Third_Floor_Garden for some wonderful new content.
Until the next edition, Gardeners!