Growing Vegetables In Pots
Reading Time:
4
minutes
Growing vegetables in pots
You don't need a massive garden to enjoy the fruits, and vegetables, of your labour. Growing vegetables in pots is a low-maintenance way to deliver fresh, delicious produce to your table. Just one healthy tomato plant can produce up to 4kg during a good summer!
Why we're 'potty' about container growing
Together forever
If you rent, container-based gardening means you won't have to abandon your precious plants if you need to move.
Easy access
Your back will thank you for having plants at pot height rather than at ground level.
Throwing some shade
Some vegetables can 'bolt' in hot weather. It's nothing to do with Olympian sprinting, although it can happen pretty fast! Bolting is when plants put on a growth spurt so they set seed quickly under stress. Trouble is, instead of delicious produce, you have 'leggy' leaves which leave a bitter taste in the mouth.
The worst culprits are veggies that hate the heat, like radishes, spinach and lettuce. But with pot-grown varieties, you can guard against bolting by popping them into the shade.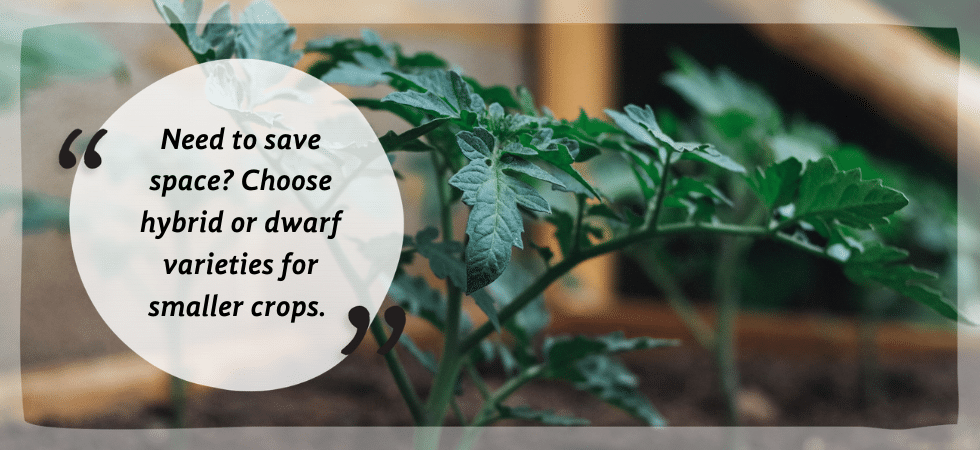 What veg grows well in pots?
• Beetroot
• Broad beans
• Carrots
• Chard
• Chili peppers
• Dwarf French beans
• Herbs – chives, mint, coriander, basil… whatever you fancy!
• Kale
• Onions
• Peas – fast growing so you can keep harvesting
• Peppers
• Potatoes
• Radishes
• Rocket and salad leaves like lettuce and spinach – look out for pick and grow again varieties for a constant supply
• Runner beans – either 'bushy' or those that climb up a trellis
• Spring onions
• Tomatoes
Pro tip: Go for hybrid and dwarf varieties that need less space to grow. Not only are they more interesting, harder to find in the shops, but tend to be more expensive to buy. They therefore make better 'cash crops'.
Container depth for vegetables
Shallow pots
• Radishes
• Herbs
Pot depth: at least 10 cm / 4 inches
• Dwarf French beans
• Onions
• Spring onions
Pot depth: at least 15 cm / 6 inches
• Lettuce and spinach – work well in shady spots
Pot depth: at least 20 cm / 8 inches
• Chard – will thrive somewhere more shaded
• Kale – with at least a 12 inch diameter
• Peas
Bonus: Peas enrich the soil with nitrogen as they grow. So once you've harvested them, you can pop something else into the same container.
Pot depth: at least 30cm / 12 inches
• Beetroot
• Broad beans
• Carrots
• Chilli peppers
• Peppers
• Runner beans
• Tomatoes – cherry tomatoes need less space than beefsteak varieties
Pot depth: at least 38 cm / 15 inches
• Potatoes – cherry tomatoes need less space than beefsteak varieties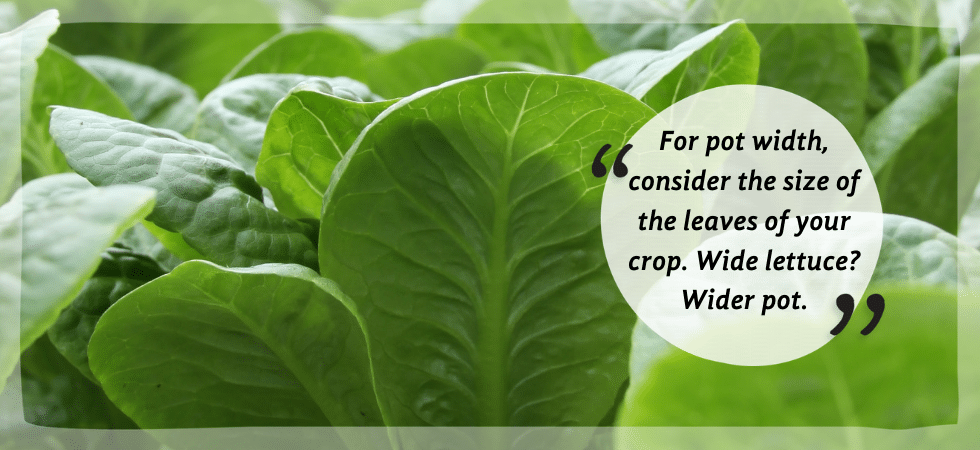 What size pots to grow vegetables in
You've got the depth covered, but how wide should a container be?
Don't crowd your potential harvest. Check out the instructions on your seed packet or plant tag to learn how much space to leave between your plants. A good rule of thumb is to think about the plant itself. Has it large leaves, like a lettuce? Then a wider pot might be best.
Still not sure? The larger the container, the more growing medium, moisture and nutrients it can contain. So you'll spend less time watering.
Price-savvy container alternatives
The costs of some gardening pots are eye-wateringly high. But as long as you add holes for drainage, you can create your own more affordable containers instead.
Check out these upcycling suggestions:
• Baskets
• Buckets
• Bins
• Colanders – add gravel to the bottom
• Plastic bottles
• Tin cans – ask your local restaurant if they have spare oil cans
• Washed out paint tins
• Washing up bowls
• Wellies
• Suitcases and hampers
• Tetra Pak milk cartons – tip on their side, cut out the top but make sure the lid is on!
Pro tip: To make recycled containers look more attractive, wind thick twine around them in layers. Or give them a coat of outdoor paint.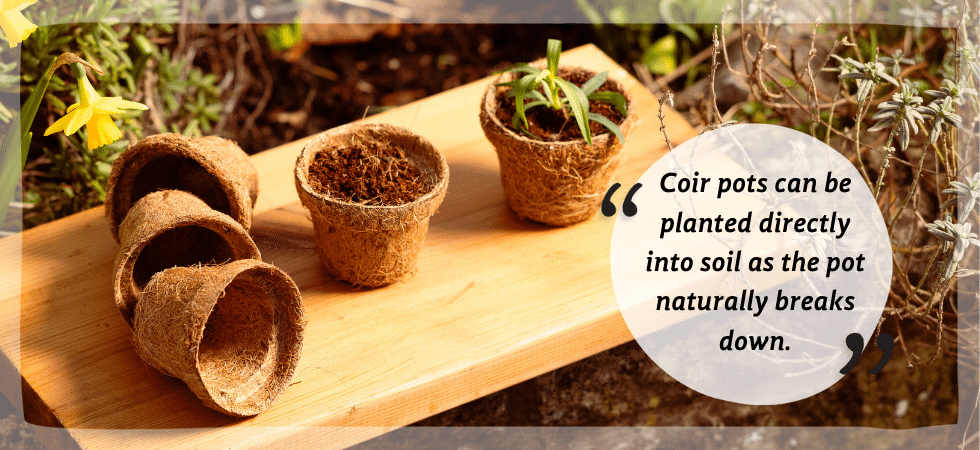 Leveling up to propagation?
The quickest way to start your container vegetable garden is to buy baby plants. But if you plan to raise plants from seed or cuttings yourself, we've a great coir based hack.
To skip 'potting on' your delicate fledgling plants, why not use our biodegradable coir propagation pots? Just plant them, pot and all, into a larger container. The casing will naturally break down into the surrounding growing medium. Not only that but the fibre pots have a woven texture, which make it easier for roots to penetrate and create stronger healthier plants.
Tips from the 'Green Gardeners Guild' online advice library
On the lookout for more tips and hints? Our blogs are packed with advice:
• How to grow vegetables in coco coir peat
• How to grow plants from seeds: step by step
Best in show?
Growing a grocery store in your containers? Let us know!
Please post your pictures and tag @cocoandcoir on Instagram. We'll credit you for any images we use and you'll also be in with a chance to win some Coco & Coir goodies for your sustainable garden.