Sustainable Christmas coir doormats
Reading Time:
6
minutes
Give an eco-friendly welcome with sustainable festive doormats
If you're trying to do right by Mother Earth this Christmas, you probably think long and hard about your home décor purchases for the season. We've pinned down the best options for sustainable front door mats, from rubber backed to biodegradable, with the best Christmas doormats available right here!
Why is coconut coir so great for doormats?
It reduces the amount of plastic in your home
Because it's highly resistant to wear and tear and staining, polypropylene is a popular synthetic material for doormats. However it's extracted from crude oil, can degrade in strong sunlight and may include VOCs (volatile organic compounds) which can affect the air quality.
Coconut coir doormats are far better for the environment – so why keep those nasty plastics at your door? Bring the sustainability indoors and out!
Stand to attention
In plants lignin is the organic matter which stiffens cell walls. Trees are usually 25% lignin which is pretty high. But coconut coir fibres contain a whopping 46%! (Thank you, Science Direct!)
This is why coconut coir fibres can take the hammering of heavy traffic areas like front doors. But unlike other coarse fibres, they're fine to stand on in bare feet – or paws.
Lignin is also highly hygroscopic – yep, we had to look this term up too! It means 'taking up humidity and absorbing moisture'. Which means wet, muddy boots won't pose any problems for a coir doormat.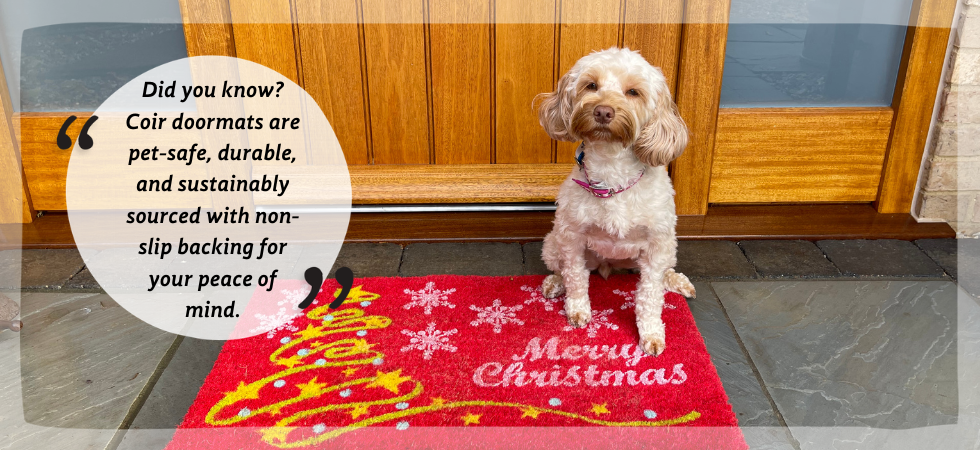 A natural protector
You may cook with coconut oil and use it for skincare. But did you know it's also brilliant for doormats? The natural oil coating around coco coir fibres guards against dampness, mould, mildew and fading from sunlight. The oil also helps hold on to dirt, stopping it being trampled into your home.
Tailor to fit
Trying to find a doormat which can fit around pipework or custom cabinets can be tricky. But with a sharp craft knife, you can cut coconut coir doormats down to size.
Tip: For a snug fit, use newspaper or cardboard to make a template first.
Need a larger doormat?
Most coconut coir doormats come in the standard 40cm x 60cm. But we also offer 45cm x 75cm doormats in some of our coir doormat designs. Browse the range to find out more.
All I want in a Christmas doormat…
You don't need to shop around to find the Christmas doormats that are right for you – we have an ideal selection of them right here at Coco&Coir. From colourful christmas tree designs to something a little more vintage, your selection can't get much better than this!
Jazz up your front doorway this Christmas with Coco&Coir's favourite Christmas doormat designs:
Another tree-mendous natural resource: rubber
Let's take a look at some of our other doormat designs for those of us who like a more subtle look at Christmas time!
A more sustainable alternative to doormat PVC (polyvinyl chloride plastic) backing is rubber. Natural rubber is obtained from latex sap, found in the latex ducts or cells of certain plants. Rubber is a particularly great material for doormats, as it's hardwearing and prevents mats slipping even on smooth floors.
We may be a little biased, but we think the monochrome combo of natural coir against moulded black rubber looks amazing!
Tip: to keep your rubber backed door mat looking its best, shake it out every week. But be careful not to fold it, as this could split the rubber backing.
Natural rubber backed door mat range:
Jasmine welcome
Insert Mat (2-in-1)
The Kaleidoscope
The Peasant Coir Doormat
The Peasant (Arc)
Red Rust welcome
Shortbread Tough Coir Doormat
Tough Guy Outdoor Doormat
Searching for a truly biodegradable doormat?
Coconut coir doormats are made from 100% natural, organic by-products of the coconut industry. Palm trees grow really quickly, so are classed as a sustainable crop.
Are you looking for a doormat you can throw on the compost heap once you're finished with it? Our Graceful leaves doormat is:
• Completely biodegradable
• Organic
• 100% natural
• Handmade
And appropriately enough for such a nature-friendly product, it has a design of autumnal leaves! Great for those who want to bring Autumn through into Winter to represent your favourite season as the festivities begin!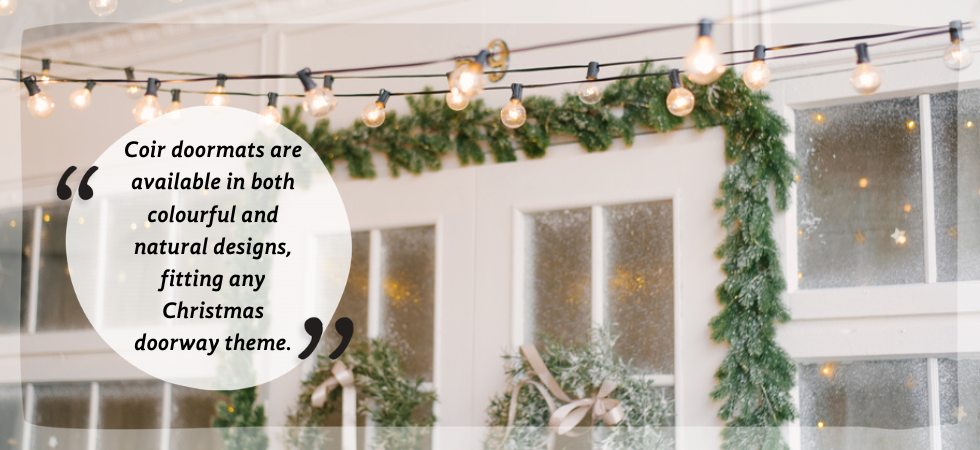 The genius of thick doormats
You wouldn't use a hair comb to rake up leaves from a lawn. The comb teeth lengths would just be way too small. Similarly, the thicker the doormat bristles, the more power they have to dislodge dirt.
Our coconut coir doormats are at least 15mm thick, so all the better to scrap off that dirt.
Bonus: Have a small entrance way without seating? Do you resort to flamingo impressions of standing on one leg when taking off shoes? Then your feet will appreciate coir's insulating properties!
Make a statement with printed door mats
Front door colours can have a real impact – according to Country Life, blue is the best colour front door to sell a home. But what about your welcome mat?
A printed door mat is a fantastic way to echo your personality and interior design style. From boho chic to cheeky messages, we have the lot!
Leaf it to flower power
A little bit of floral design patterning on your front doormats is perfect for a burst of colour at any time of the year, or simply for those who love a horticultural spin on their home decor. Say you love the outdoors right at your doorstep by adding a sustainable coir doormat with floral patterning to your doorway:
Multicoloured zing
Not one for 'dull' and 'boring'? We hear you – and we have a fantastic range of colourful coir doormats to bring your ideas to life. Whether you have a colourful front door you wish to highlight, or a space that you'd like to give a bit of sparkle to, our doormats are the perfect choice for you.
For travel fans
If you're looking for an idea for a sustainable Christmas gift, and it's for someone who is a fan of travel or vehicles, we have a fun range of vehicle-themed doormats they are sure to love!
Raining cats and dogs?
Maybe your Christmas giftee is a fan of animals? As our coir doormats are pet-safe, you'll find some wonderful design ideas right here!

Welcome home
A lover of the warmest welcomes? Say hello to your guests and show your love for your home and family with one of these doormats. Ideal for welcoming the family home for Christmas.
Classic monochrome
A true classic colour scheme that is timeless. Add to your doorway for not just a beautiful entrance, but for all the benefits that coir can bring in your favourite white, black and grey patterning.
Check out our full range!
Take a look at all our indoor and outdoor doormats to choose the design that suits your home best – no matter the season. Switching up designs to greet new guests as the season draws in can be quite inviting, especially when you're choosing a Christmas coir doormat to suit your front doorway's decorations.
More online doormat inspiration
Our blogs are packed with ideas and advice about coconut coir:
• Sustainable ways to revamp your hallway
• The best doormat for cleaning shoes
• The benefits of sustainable coir doormats
Show us your sustainable front doormat
There's nothing we like better than seeing one of our doormats out 'in the wild'! We would love for you to post a picture and tag us in at @cocoandcoir on Instagram.
Have a story about your gardening journey you'd like to tell too? Get in touch with the Green Gardener's Guild and tell us all about your achievements, challenges, failures, and more. We'll credit you for any stories we publish with £10-worth of online store credit – so let us know all about your garden!